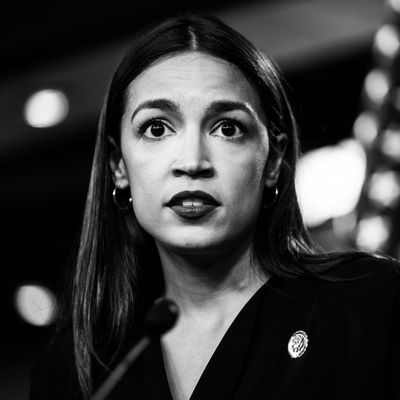 Alexandria Ocasio-Cortez.
Photo: Jim Lo Scalzo/EPA-EFE/Shutterstock
After a grotesque image surfaced of Mitch McConnell supporters groping and choking a cutout of Alexandria Ocasio-Cortez, the freshman congresswoman demanded the Senate Majority Leader answer for the young men's behavior.
On Monday evening, Ocasio-Cortez shared a screenshot of an Instagram photo taken at Kentucky's annual Fancy Farm Picnic over the weekend, in which seven high-school-aged boys donning "Team Mitch" shirts kiss, choke, and give thumbs-down to the cutout. The caption reads, "break me off a piece of that."
"Hey [McConnell] - these young men look like they work for you," Ocasio-Cortez, a frequent target of disturbing images and memes, tweeted at the Senate Majority Leader. "Just wanted to clarify: are you paying for young men to practice groping & choking members of Congress w/ your payroll, or is this just the standard culture of #TeamMitch?"
In a stern statement to the Washington Post, McConnell's campaign manager Kevin Golden said the campaign "in no way condones" the image of the boys, who Golden claims are not affiliated with the campaign. "These young men are not campaign staff," he told the Post. "They're high-schoolers, and it's incredible that the national media has sought to once again paint a target on their backs rather than report real and significant news in our country." (McConnell has not personally responded to the image.)
McConnell's official campaign posted an Instagram photo from the picnic of boys in the same "Team Mitch" shirts proudly holding up posters of Supreme Court justice Brett Kavanaugh, a man who has been publicly accused of sexual assault and misconduct by three women.
Also, here's some more "significant news in our country" that's worth reporting: The day of the picnic, but before the image of the boys surfaced, the McConnell campaign was already under fire for tweeting a satirical image of fake tombstones bearing his opponents' names. Furthermore, this came just hours after an anti-immigrant gunman opened fire in an El Paso Walmart, killing 22 people and injuring another 24.