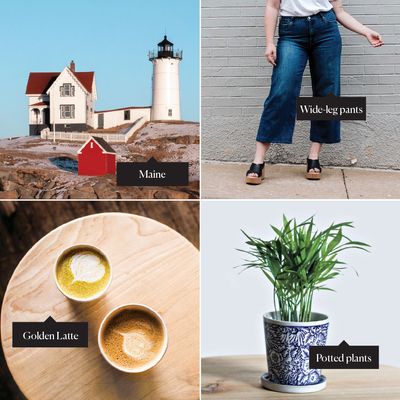 The agony of overexposure to the things we love.
Photo: Unsplash
Here is an hour of my life I lose every day to Instagram. It's always alone, usually after dinner or sometimes during middle-of-the-night bouts of insomnia, and reaches some kind of crescendo, like ordering $30 shoe inserts that promise to make high heels less painful (so convincing in the ad!) or doing a deep dive into this woman who is an ex of a friend of someone I grew up with. She posts stills of outfits from The Talented Mr. Ripley and odd, witchy-looking grapes. For this, she has around 20,000 followers. I become one of them.
At first, I'm just curious about the logistics of her life. There seems to be an inspiring amount of #influencer content that doesn't really align with her follower reach. She tags every single item of her clothing like she's a starlet at a premiere. There's a lot of content: sweaty gym selfies as an excuse to show off her abs, golden lattes, dinner with "the girls" at Pastis, lines like "I just took a DNA test, it turns out I'm 100% that bitch," tips on how to reduce your carbon footprint, so many pictures of tiles during a trip to Lisbon ("my office for the week," "I live here now").
It all starts to grate, and soon my follow has officially turned into a hate-follow. Her feed is turning me off to things I once loved, like No. 6 clogs and Patagonia fleeces. Eventually, I'm closing my eyes and rubbing the bridge of my nose — which I do only when I really can't handle life — and whispering to my phone, "No, don't ruin Negronis for me, too."
Meet the unfluencer, the person who makes me want to do the opposite of whatever she's doing and throw out whatever I already own that she has posted about.
To be clear, I love my white linen dress from Reformation, and my most recent post on social media was of my dog. I have the same modern desires as many, many other women and men of my demographic. This is neither an argument against being basic nor a critique of social media's influence. My most recent purchase was a (fake) gold anklet inspired by the (real) gold anklet the influencer Katie Sturino bought on her honeymoon in Italy. I like her vibe. Her hot, bearded husband took her last name! She made me consider buying $460 red Valentino Birkenstocks! It's not so much that I want to own her specific dogs or buy the same blazers she wears; it's more that I appreciate her distinctive point of view, her taste, her approach to life (at least the one I see reflected on her feed). Clearly, she tries hard — she got a concussion on her honeymoon and still went on a Clé de Peau–sponsored trip to Big Sur — but she's not a try-hard.
But one woman's influencer is another woman's unfluencer, and maybe for someone else, Sturino is a persona who mugs for the camera in one too many striped swimsuits. What makes any one of us cross the line into loathing is at once specific and hard to pinpoint. It's not something you think about; you just know it when you feel it.
Weddings and vacations are prone to unfluence because people have spent a lot of time planning them and putting money into making them look a certain way; children and pets because they're generally regarded as cute; activism and exercise because people like to show off about doing good for themselves and the planet (self-care: an unfluencer minefield). I have found myself compiling a brief list of things unfluencers have ruined for me, and they include wide-leg pants, most potted plants, Rachel Cusk, Aesop hand balm, the Met Breuer, being "into Broadway," the Marlton, all destination weddings, Barry's Bootcamp, the brand Self-Portrait, rattan, P50 toner, pink mules, the superbloom, paella (homemade or ordered in a restaurant), and Maine. And I've never even been to Maine! A friend of mine refuses to wear Nikes, period, after her unfluencer nemesis bought the same shoe in the same colorway she had almost bought at the Net-a-Porter sale.
An unfluencer has the power to mess with your head, setting you off balance and making you question what you like and don't like, what you know to be cool and what is corny. It makes me wonder, in the back of my mind, if the arbiters of taste I follow — say, the cool Chinatown-dwelling girls always dressed in vintage Issey Miyake — are maybe not so cool in real life?
It might come down to the narcissism of small differences. I sleep on linen sheets and occasionally make oat matcha lattes with a special whisk and don't feel the need to chronicle it, which makes me feel irrationally superior. But why is the unfluencer posting like it's her job even when it's not? Does she think she looks good in all those jumpsuits, or does she keep posing in them because she likes the comments? Is she just angling for free stuff? And then my mind wanders to the macro questions: Does the ubiquity of a certain kind of self-regarding taste water down its appeal?
I'm being dramatic and dramatically petty, which of course is its own kind of pleasure. But that's also part of the pernicious effect of the unfluencer. It is inherently a lonely pursuit. There's something satisfying about feeling like you're the only one who doesn't think this person is as cool as the rest of the world does. It's a little like "The Emperor's New Clothes," but instead I'm forcing myself to breathe deeply through my rage at a woman who keeps tagging every caftan she wears like she is the queen of sack dresses.
There is clarity in knowing what doesn't do it for you. The breaking point for me always hinges on the unfluencer's taste's not being what she thinks it is. But my being provoked probably has less to do with the narcissism I perceive on the unfluencer's part than with my own: I'm not as original as I wish to be; my taste is not as interesting and refined as I think it is. I can hear my mother's voice in my head telling me, circa grade school, "The things you hate are usually the things you do yourself." The unfluencer has the ability to bring up some big, primal emotions — fear, frustration, territoriality, disappointment. So who cares if I can't order a Negroni without cringing? I should credit her in the end for allowing me to better understand myself. The unfluencer makes me dig into my psyche as well as my old analyst did, and she does it all for free.
*This article appears in the August 19, 2019, issue of New York Magazine. Subscribe Now!
More From the fall 2019 fashion issue
See All