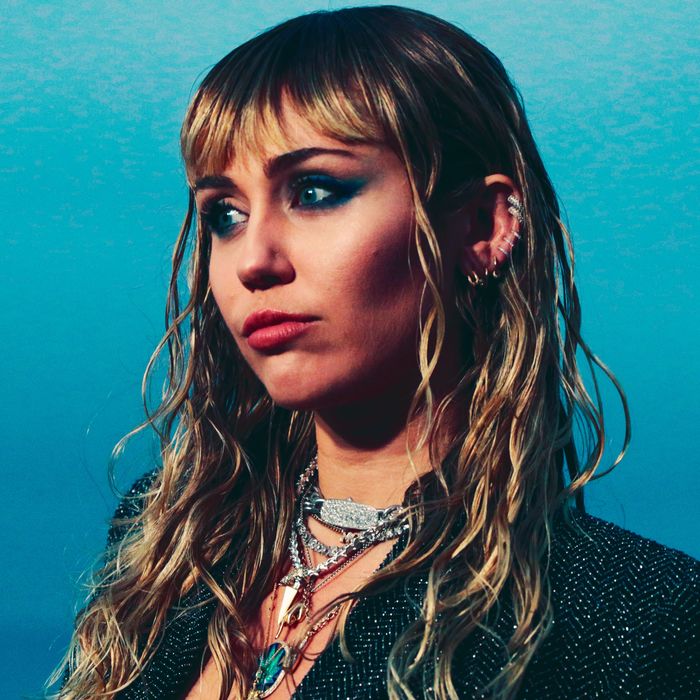 Miley Cyrus.
Photo: KYLE GRILLOT/AFP/Getty Images
Miley Cyrus will admit to a lot of bad behavior — except one important thing: In a candid Twitter thread on Thursday, Cyrus put to bed rumors that she cheated on Liam Hemsworth, leading to their at first pleasant, now deeply acrimonious split. "You can say I am a twerking, pot smoking, foul-mouthed hillbilly but I am not a liar," Cyrus wrote.
Last Saturday, as Hemsworth and Cyrus announced the mutual dissolution of their marriage with amicable, prepared statements, Cyrus was seen canoodling on an Italian getaway with blogger and Brody Jenner's ex Kaitlynn Carter. Since then, Hemsworth was spotted brooding alone in Los Angeles, and sources in his camp have been releasing increasingly more defamatory accusations against Cyrus. Hemsworth was "heartbroken and blindsided by those photos" of Cyrus and Carter, one person told "Page Six." Another told TMZ that stories that "the dealbreaker was that Liam was drinking a lot and using certain drugs" were "another attempt by Miley to distract from her infidelity and recent outrageous public behavior."
Now, Cyrus has taken to the people's publicist, a.k.a. the Twitter app, to defend herself. "I can accept that the life I've chosen means I must live completely open and transparent with my fans who I love, and the public, 100% of the time. What I cannot accept is being told I'm lying to cover up a crime I haven't committed. I have nothing to hide," she wrote.
She eventually flat-out denied cheating on Hemsworth, saying that she "refuse[d] to admit that my marriage ended because of cheating."
But the best part of the thread are the things she will admit to, which include:
— "Partying in my teens and early 20's."
—"My biggest song to date is about dancing on molly and snorting lines in the bathroom."
— "I fucked up and cheated in relationships when I was young."
— "I swung on a wrecking ball naked."
— "There are probably more nudes of me on the internet than maybe any woman in history."
—"I lost a massive Walmart deal at 17 for ripping a bong."
The best confession by a mile is this one:
— "I got kicked off Hotel Transylvania for buying Liam a penis cake for his birthday and licking it."
Relatable!