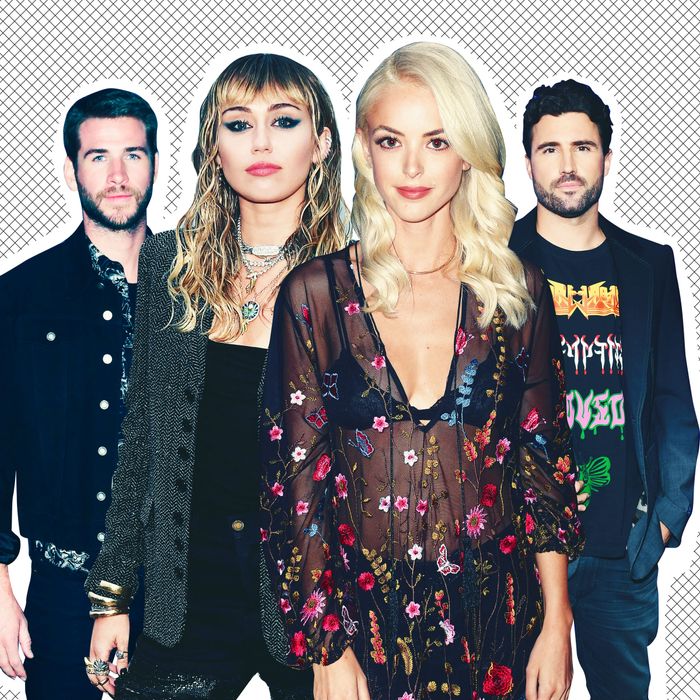 Miley Cyrus is trying to have a romantically entangled summer. Or make that a weekend.
In case you missed it, Cyrus and Liam Hemsworth, who dated on and off since 2010 and got married in December in what the singer described as "New Age" fashion, have broken up.
The split was announced on Saturday just as news was breaking that Cyrus had been photographed in Italy making out with Brody Jenner's very recent ex, Kaitlynn Carter. Last week, Carter and Jenner chose to go their separate ways after five years together, including a little over a year of marriage. Although this is also potentially fraught: The two had a wedding ceremony in Bali last June, but a source close to the couple told Entertainment Tonight that they were never legally married.
As for Italy, ET reported that Cyrus and Carter were making out and affectionately cuddling at the Il Sereno hotel in the vicinity of Lake Como. Cyrus's sister, Brandi, was also there. Photographs show Cyrus, a self-avowed pansexual, kissing Carter by a pool, their faces sometimes obscured by a straw hat.
Then on Sunday, Jenner was all "seems like a good time to post a picture of myself standing forlornly by a body of water" and captioned his Instagram effort "Don't let yesterday take up too much of today." Oh dear. Well, someone named Brandon Thomas Lee (who is apparently on the new The Hills show) commented, "Let's round this scandal out and post a pic of us making out." To which Jenner responded, "watch out! Pics of Liam and I holding hands on the beach coming soon." And then Miley responded to Jenner, "go take a nap in your truck and cool off #HotGirlSummer."
Meanwhile, on Sunday, Carter posted an Instagram Story of herself listening to "Don't Worry Be Happy" — a clear message, if you ask me, that she and I have different musical tastes.
On Monday, The Daily Mail Australia got a brief comment out of Hemsworth on the reported dissolution of his marriage. "You don't understand what it's like," the actor said. "I don't want to talk about it, mate." On Tuesday, Hemsworth posted his first official statement, writing in an Instagram post:
"Hi all Just a quick note to say that Miley and I have recently separated and I wish her nothing but health and happiness going forward. This is a private matter and I have not made, nor will I be making, any comments to any journalists or media outlets. Any reported quotes attributed to me are false. Peace and Love."
As for Cyrus, a source told People that she "really fought to make it work" and wanted to go to therapy. "She just wants to be in a healthy and focused place," the source said.
In her first social-media posts following the announcement, Cyrus wrote a love letter to Planet Earth, though Cyrus-Hemsworth truthers may believe she is also alluding to the breakup. "Don't fight evolution, because you will never win. Like the mountain I am standing on top of, which was once under water, connected with Africa, change is inevitable," she wrote. Two birds, one stone, I guess?
It is difficult not to notice that the two women's marriages were ended in spirit (if not yet law) at about the same time, although I'm not sure what sort of narrative conclusion this is meant to lead us to. Did they leave their marriages for one another? Are they making out because they're single or single because they're making out? Are they dating? And is this all happening because the internet is supposed to be having a #HotGirlSummer? A nap, to be honest, sounds good.
This post has been updated.