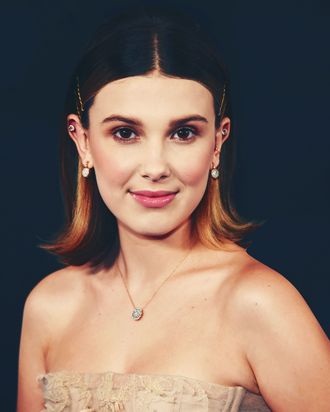 Photo: David M. Benett/Dave Benett/WireImage/Getty Images
Someone somewhere once said that when it rains, it pours, and I regret to inform you that it seems the forecast calls for a never-ending torrential downpour of celebrity beauty lines for the foreseeable future.
Last week we got some precipitation in the form of Selena Gomez starting a beauty line and Ciara saying she's also starting a beauty line, and yesterday, WWD announced that Stranger Things actress and 15-year-old Millie Bobby Brown is launching her very own beauty line, too.
It's called Florence by Mills (Florence for her great-grandmother, Mills for herself), and it's already set to launch in four days online at Ulta and Boots. Florence by Mills is a Gen-Z-specific beauty line, meaning it's PETA-certified, cruelty-free, vegan, anti-anti-aging, and priced at a reasonable $10 to $34. WWD says Brown's message was "that [the] line would simply 'be good' for Gen Z's skin." No word on how it will fare on millennial skin suits.
Another fun fact: Brown's line is also being launched through Shaun Neff's Beach House, the very same company that birthed the Kendall Jenner toothpaste and the KJTWP. Do with that info what you will, and watch Eleven walk us through a face-mask application.