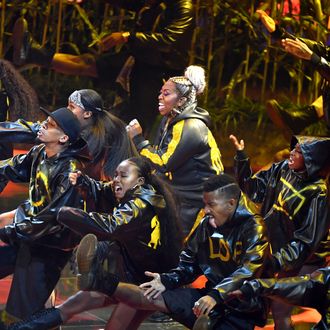 Photo: NOAM GALAI/Getty Images
Missy Elliott performed a medley of songs from her prolific career at the 2019 MTV VMAs and showed us all why she is a gift to music, pop culture, and the world at large. Elliott is tonight's recipient of the Michael Jackson Video Vanguard Award, "recognizing accomplishments in music and film," according to MTV. In her acceptance speech, presented to her by Cardi B, Elliott thanked her management team, as well as fellow artists, including Aaliyah and Cardi B herself.
The performance included songs from throughout her decades-long career and included quick changes that defy the laws of simple physics. An abridged list of featured songs: "Work It," "Throw it Back," "The Rain," "Hot Boyz," "Get Ur Freak On," and "Pass That Dutch." The hip-hop legend impeccably re-created outfits and sets from past music videos and even brought back Alyson Stoner (the little girl from the "Work It" music video) to dance. We advise you to check out the full performance below. Words can only do so much to describe genius.