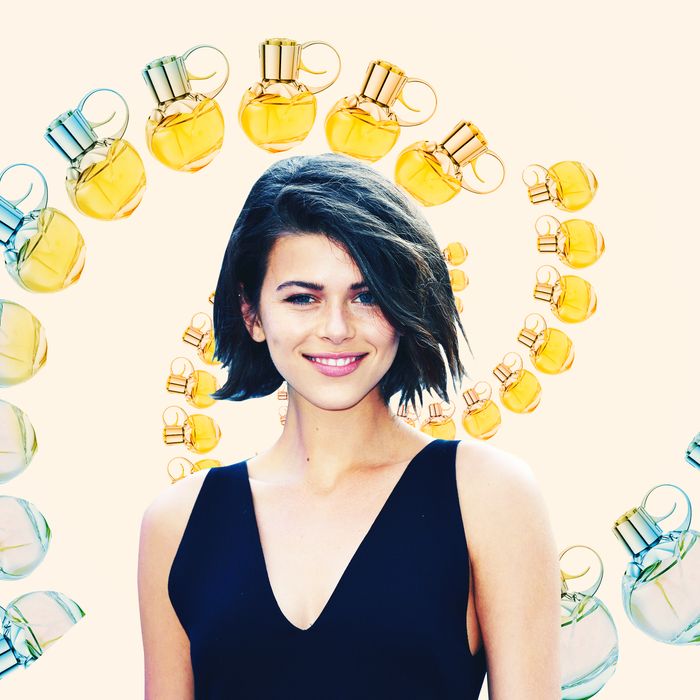 Call it the Proust effect: Memories are often triggered by smells. Scientific studies confirm that, of all the senses, smell offers the best recall. In Scent Memories, the Cut asks people about the scents they associate with different times in their lives. Next up is model Georgia Fowler, global ambassador for the newest Azzaro perfume, Wanted Girl. It's a floral mix of ginger flower, orange blossom, and vibrant vetiver, as well as pink peppercorn and dulce de leche. The Cut caught up with Fowler about Christmas tree smell, the scent of a fire, and a good clean.
My first scent memory is: It would have to be this spray that we would use all around the house. It basically smelled like Christmas trees. It was rich and almost oriental and spicy, like cinnamon and pine mixed together. I think it was some one-off from some homeware store that my mum found.
Happiness smells like: A beach. The ocean. Salty, a little bit of seaweed, some fish in there. I think it just reminds me of being home with my family. It's my happy place.
Love smells like: Fresh roses. Just sensual fragrances. When someone walks past and you catch a hint of their cologne, you're like, Woo! It gets you going.
Friendship smells like: Gardenia. It just smells fresh and happy and joyous.
Heartbreak or loss smells like: Like a fire. You would put a fire on if you were heartbroken and cry around it with a hot chocolate and some marshmallows. The flame ignites a next chapter.
Regret smells like: Hmm, standing in some dog poo. Too many cigars or something really nasty? If it's bad, it's taught you a lesson. So no regrets.
Success smells like: Champagne, cause you always want to celebrate with a little toast.
A pleasant surprise smells like: I would have to say a clean house. I'm always pleasantly surprised when I come home and my gorgeous mother has done a good clean.
The worst smell is: I really don't like the smell of petrol, gasoline. Some people love it. I really don't.
Vacation smells like: I used to use this sunblock that smells like coconuts. I'm a bit of a beach bunny so I love that.
Sunday morning smells like: Pancakes, cooking. My dad used to make pancakes when he was home and it was always a special morning.
Monday morning smells like: The gritty New York subway, which inspires us all to just keep working harder.
My home smells like: Fresh cut flowers, like roses. My favorite are tulips, but they don't really have much of a scent. Or a home — if I go home to New Zealand, a good roast dinner. Nothing beats it.
I smell like: Well, pretty darn good. I smell like Azzarro Wanted Girl. It is you know, floral and fragrant but it's got a little dulce de leche that comes out too once you've worn it.
If you buy something through our links, New York may earn an affiliate commission.