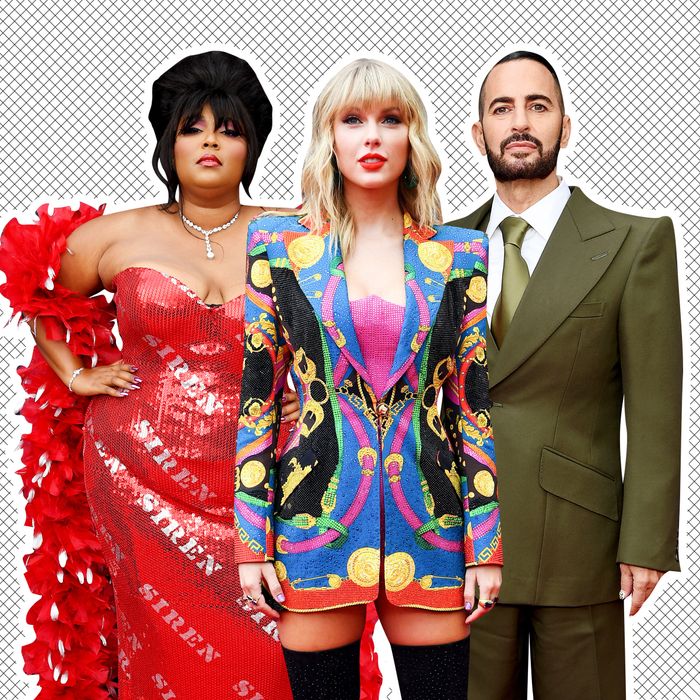 Lizzo, Taylor Swift, and Marc Jacobs.
Photo: Getty Images
Pete Davidson and Ariana Grande may not have attend the MTV Video Music Awards together this year, but there was still big energy on the VMAs red carpet. Megan Thee Stallion continued her trademark "hot girl summer" tour, arriving early to perform in a custom Louis Vuitton monogrammed leather bodysuit. Taylor Swift wore a shimmering Versace blazer, making us wonder how Donatella Versace pronounces "Yeehaw" with an Italian accent. Diplo also came dressed as a hot cowboy. Lizzo was a siren, which we know because her custom red Moschino gown was covered in the word … siren. And there were a number of throwbacks, with not one but two Britney Spears impersonators, plus Lil Nas X channeling Prince in a a ruffled shirt and a silver sequined suit. Designer Marc Jacobs even made an appearance in Prada ruby slippers; he was there to receive the first-ever Fashion Trailblazer Award.
Unfortunately, a number of stylish nominees were missing from the red carpet, including Billie Eilish, Ariana Grande, and BTS. But it was a pretty fun night, nonetheless. Below, the best, worst, and most chaotic celebrity suits, dresses, and snakes from the 2019 MTV VMAs.
Most Glamorous: Lizzo and Rosalía
It's nice to see people rise to the occasion. Lizzo loves feathers, as evidenced by her appearance at the Met Gala this year. On Monday night, she wore a custom look by Moschino covered in red sequins and the word siren, in case you didn't catch that.
Rosalía, who actually has the same stylist as Billie Eilish and Diplo, looked elegant in a custom Burberry black satin corset top and skirt with crystal fringe, plus long black velvet gloves. Our only wish is that she wore more color!
Hottest Cowboy: Diplo
Real men wear ugly toads on their suits. Pucker up, sweet prince!
Best Mission Impossible Reboot: Bad Bunny
If only he dropped into the show like Tom Cruise. That would've given Lady Gaga's Super Bowl entrance a run for its money.
Best Suit: Marc Jacobs
Children, this is how it's done. One of Marc Jacobs's most endearing qualities is his love of wearing other designers. To accept his own Fashion Vanguard award, he wore ruby heels from Prada and a custom-fitted suit with power shoulders. He also carried his vape, of course.
Best Blazer Face-off: Megan Thee Stallion vs. Taylor Swift
Leather and studs? Or …
Patterned Versace? You choose — we're not getting in the middle of this.
Best Prince Impression: Lil Nas X
He respects his elders, and we respect that.
Most Sleaze: Brandon Thomas Lee
The son of Pamela Anderson and Tommy Lee decided to dress like … his dad? Dads are hot right now, I guess.
Best Look for Running to the Deli: Rick Ross
Can you grab us a King Cone, please? Oh, also, we're out of paper towels.
Most Likely to Get Us to Do Pilates: Normani
Motivation, indeed.
Accessory Best Left in 2001: Snakes
Tana Mongeau, a person you've never heard of who married another person you've never heard of in a wedding we never stopped hearing about, brought a live snake.
While H.E.R.'s snake seemed to be stuffed, or perhaps made out of plastic. Just invite Britney next time! You know she's got a closet full of clothes she's waiting to take for a spin.