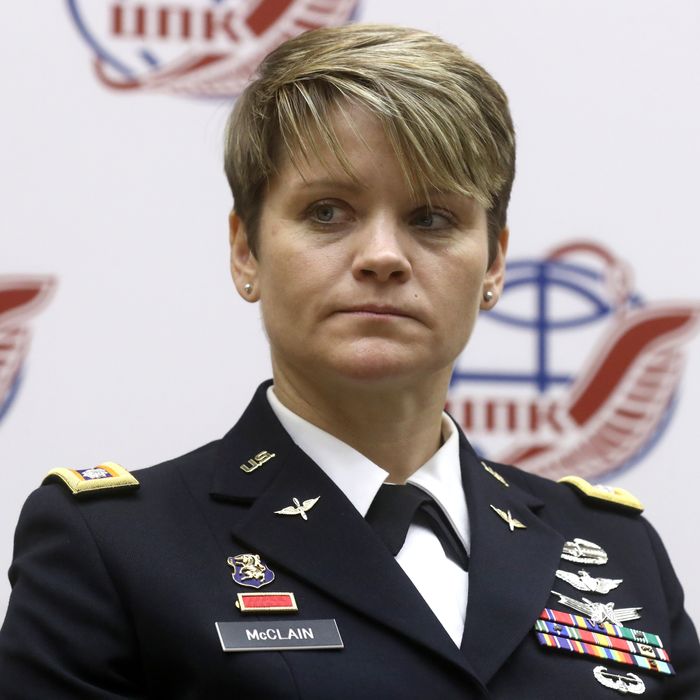 Photo: Stanislav Krasilnikov/Stanislav Krasilnikov/TASS
Anne McClain, a NASA astronaut who was set to participate in the first all-female spacewalk before it was canceled, is being accused of committing what might be the first outer-space crime. The offense? Identity theft. McClain accessed her estranged wife's bank account during her six-month mission aboard the International Space Station. Who knew you could even check your bank balance from space?
As the New York Times reports, McClain's spouse, Summer Worden, found out that McClain had been accessing her account after McClain showed knowledge of her purchases. Worden became suspicious, and discovered that her bank account had been tapped via a NASA-registered computer network. The former couple, who married in 2014, had been undergoing a difficult separation and custody battle centering around Worden's young son.
McClain admitted to accessing the account, but said she was only monitoring it to make sure there were no issues with the finances, and that Worden had enough funds to care for the child. While Worden is accusing McClain of improper access and identity theft, there was no sign of money being withdrawn or spent by McClain.
"She strenuously denies that she did anything improper," her lawyer, Rusty Hardin, said. McClain claims she was using the same password to access the account as she did prior, and says she was never told by Worden to stop checking the account.
In 2018, Worden had filed for divorce after McClain accused her of assault, a charge she denies and claims was of McClain's plan to attain custody of her son. Investigators from NASA have contacted both women and are currently investigating the case.