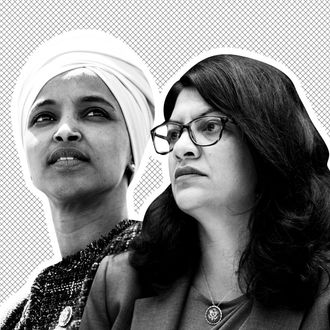 Ilhan Omar and Rashida Tlaib.
Photo: Getty Images
Israel has officially barred U.S. congresswomen Rashida Tlaib and Ilhan Omar from entering the country, hours after Donald Trump tweeted that it would "show great weakness" if they were allowed in.
The representatives had planned to visit the West Bank, on a trip partly organized by Palestinian lawmakers. Tlaib had been planning on staying with relatives in the West Bank after the rest of the delegation left Israel on August 22. Both are outspoken critics of Israel's occupation of Palestine and are supporters of the Boycott, Divestment, and Sanctions movement (BDS), a Palestinian-led campaign. And both have endured accusations of antisemitism from Donald Trump, who himself has incited alt-right, white nationalist constituents in the United States including Neo-Nazis; and from Democrats in their own party, who have labelled their positions extreme, and have argued their rhetoric engages in "anti-semitic tropes."
Last week, it was reported that Trump was pressing Prime Minister Benjamin Netanyahu to deny Tlaib and Omar entry, on the grounds of an Israeli law that allows the state to bar supporters of BDS. Even under the law, the decision is an unprecedented move against Israel's critics, and the most high-profile use of the anti-boycott measure to date; just last month, the Israeli ambassador to the United States said that it would not deny any U.S. representatives entry, citing the two countries' historic allied relationship.
Netanyahu's decision after Trump's prompting represents a blatantly anti-Democratic consolidation of power among two authoritarians. But their working in concert is a compliment to the fearlessness and convictions of Tlaib and Omar, who have marshaled a growing number of supporters of the Palestinian cause for statehood, and against Israel's harshness against dissidents, into the mainstream.
Despite Trump's insistence that it would be a "show of weakness" to allow them entry, Netanyahu's invocation of the anti-boycott law exposes him and his conservative government. It shows how afraid they are of Omar and Tlaib, and that their place in Congress, as the first two Muslim women to serve there, could potentially usher in a reckoning. It is, in fact, a "show of weakness," to use Trump's word, of this far-right coalition, backed by the GOP, which is based on maintaining mutual financial and military interests.
Moreover, the widely condemned move has had the unfortunate consequence of drawing criticism from moderates who have previously supported Israel. Even the likes of New York Times columnists Bari Weiss and Bret Stephens, Senator Chuck Schumer, and conservative lobbying group AIPAC, who led some of the charges of antisemitism against Tlaib and Omar, have spoken out against it. In the media and among politicians in the United States, Israel has long benefited from a large coalition of defenders, and Netanyahu's actions threatens to break it up.
Tlaib and Omar have been a threat to Trump ever since they were sworn into Congress in January, the former in a hand-sewn Palestinian thobe and the latter in a hijab, the first-ever on the floor. Only weeks ago, he told them, along with representatives Ayanna Pressley and Alexandria Ocasio-Cortez, to "go back to where they came from," after the four non-white female politicians heavily criticized his administration's policies at the U.S.–Mexico border. Now he has helped make it so that Tlaib cannot even "go back" for a visit, a direct demonstration of tyrannical power, but one that may very well fail. In response, Tlaib has remained defiant. She tweeted a photo of her grandmother in Palestine, using the Arabic sity, saying, "I am who I am because of her."