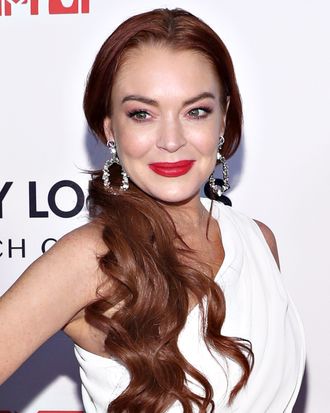 Photo: Cindy Ord/Getty Images for MTV
It's been over a decade since our ears were blessed with a Lindsay Lohan song, and even longer since she released an album. For everyone who thinks "Rumors" still slaps, get ready, because there appears to be some new Lohan music on the horizon. As Nylon reports, an Instagram clip of Lohan singing a new song has leaked, and it was confirmed by the songwriter.
The clip, posted by a Twitter user named @drugproblem, shows footage of Lohan in a dressing room, surrounded by wig heads, and playing with her hair as she turns toward the camera. The song is mostly instrumental except for Lohan singing one line, that might very well be a message to us all: "I don't like the parties in L.A."
And, excuse me, is that a sample of "Better Off Alone" by the great Alice Deejay I hear? As if it couldn't get any better.
Songwriter Jesse Saint John, who co-penned Lizzo's hit "Truth Hurts," as well as songs for Britney Spears, Kim Petras, and Camila Cabello, confirmed that he is behind the track. Saint John tweeted, "incomingggggg" and some assuring winky emoji.
No word on when the full song will be released, but judging from the responses on Twitter, the Lohan stans will be waiting with bated breath.
In June, Lohan fueled rumors of a return to music when she posted an Instagram of herself in a recording studio, then tweeted she was "hard at work."
Looks like Taylor Swift's got some competition.