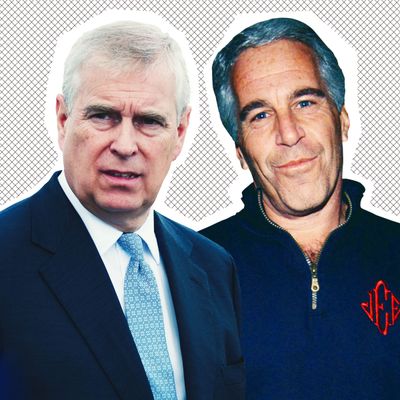 On Sunday, Buckingham Palace once again attempted to distance itself from deceased financier and pedophile Jeffrey Epstein after the MailOnline published an old video reportedly showing Prince Andrew hanging out at the billionaire's Upper East Side townhouse. In the video, allegedly filmed on December 6, 2010, Epstein and an unidentified young woman can be seen leaving the townhouse. Then a man, identified by the Mail as Prince Andrew (a.k.a. the Duke of York), can be seen waving farewell to a woman from behind the home's partially closed front door.
As we know from court filings, reporting, and one very stacked little black book, Epstein was troublingly well connected — he even made inroads with the royal family. The family has denied allegations, stemming from a 2015 court case, to the effect that Epstein forced a 17-year-old girl to have sex with Prince Andrew on three occasions: an orgy in London, a rendezvous at Epstein's New York home, and another at his private Caribbean island. Epstein's little black book contained 16 phone numbers for Prince Andrew.
Earlier this month the Daily Beast reported that, according to recently unsealed court records, a woman named Virginia Giuffre claimed in depositions in 2016 that Epstein's alleged trafficking co-conspirator Ghislaine Maxwell directed her to have sex with Prince Andrew and several other men. The article goes on to say that in 2007, a woman named Johanna Sjoberg told the Daily Mail that Andrew had "touched her breast" at Epstein's Manhattan mansion "after using a puppet to show what he would do on Giuffre's body."
The Guardian reports that the dredged-up footage prompted Buckingham Palace to try to shield Prince Andrew, Queen Elizabeth II's third child and the eighth in line to the royal throne. The Palace said in a statement:
"The Duke of York has been appalled by the recent reports of Jeffrey Epstein's alleged crimes. His Royal Highness deplores the exploitation of any human being and the suggestion he would condone, participate in or encourage any such behaviour is abhorrent."
The statement elides Andrew's presence in the video, as well as ample documentation of Epstein and the duke's friendship, which reportedly began in the early '90s and endured through the early aughts. For instance, after Epstein returned from his extremely lenient 18-month prison sentence (only 13 of which were served) for soliciting a minor for prostitution in 2011, the New York Post reported, he "celebrated his release from a Florida jail with his close pal, Britain's Prince Andrew."
Following Buckingham Palace's statement, attorneys representing some of Epstein's victims said they were of the opinion that Prince Andrew should give sworn testimony on "everything he knows" about Epstein. Brad Edwards, a lawyer representing Giuffre, told the Guardian on Monday, "I look forward to coordinating a formal deposition where he will be given the opportunity to tell us everything he knows … We would like to do this as soon as possible, at his convenience, and again we are very appreciative of his willingness to help."
This post has been updated.