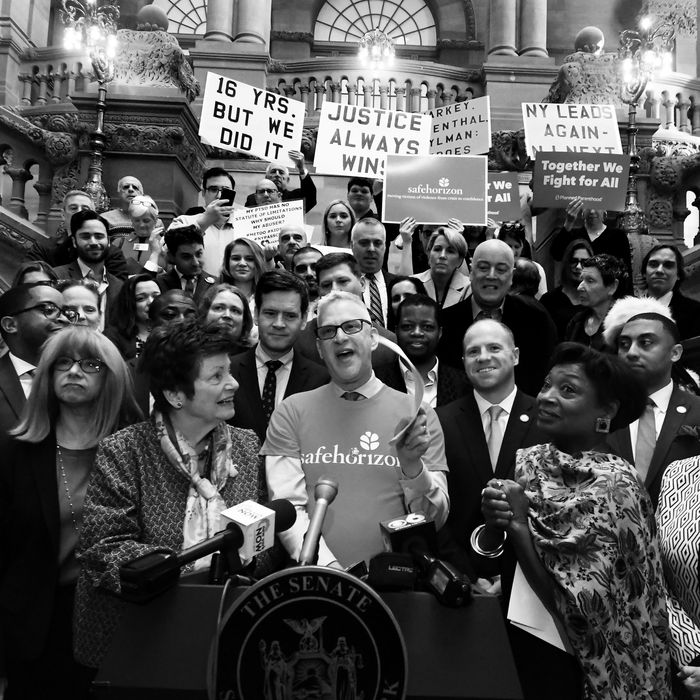 New York legislators, advocates, and victims of child molestation speaking in favor of the Child Victims Act this January.
Photo: Hans Pennink/AP/Shutterstock
New York State's Child Victims Act went into effect on Wednesday, temporarily lifting the statute of limitations for child sex-abuse cases. Under the new law, people in New York have one year to file retroactive sexual-abuse lawsuits — reviving cases that expired years ago under previous statute of limitations, which required child sexual-abuse offenses to be prosecuted within five years of their alleged occurrence.
This "look-back window" is expected to lead to hundreds or thousands of lawsuits against churches, schools, youth groups, and hospitals. According to the New York Times, major institutions across the state are bracing for its impact, including the Catholic Church and the Boy Scouts of America. California had a similar look-back window in 2003, which resulted in more than 1,000 lawsuits and hundreds of millions of dollars in settlements.
On Wednesday, the first day that the new law was in effect, 427 lawsuits were filed in courts across the state. According to Reuters, the majority of suits were filed against the church, though claims were also filed against schools, hospitals, and the Boy Scouts. At least one suit was also filed against the estate of Jeffrey Epstein: On Wednesday, Jennifer Araoz, who said last month that Epstein raped her when she was 15, filed one of the first lawsuits under the new act. The complaint, filed against Epstein's estate, his longtime associate Ghislaine Maxwell, and three unnamed household staffers, alleges that Maxwell and the staffers "conspired with each other to make possible and otherwise facilitate the sexual abuse and rape of Plaintiff."
New York is one of more than a dozen states to significantly expand the statutes of limitations for lawsuits alleging sexual abuse this year. Previously, New York's statute of limitations was among the most stringent in the country, requiring that lawsuits alleging child sex abuse be filed before the victim's 23rd birthday. Under the new law, which was approved by the legislature in January, victims will be able to sue an alleged abuser until they are 55.
"This bill will provide necessary relief to child victims of sexual abuse by amending New York's antiquated laws to ensure that perpetrators are held accountable for their actions, regardless of when the crime occurred," Governor Andrew Cuomo's office said in a statement.
This post has been updated.