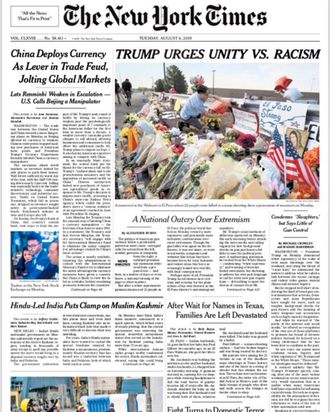 Photo: Nate Silver/Twitter
The paper of record had a curious approach in reporting Donald Trump's response to our nation's latest two mass shootings, which occurred in less than 48 hours over the weekend. The front-page headline of the New York Times, made public on Monday night for the next morning's first edition, blared "Trump Urges Unity Vs. Racism." It was a … unique way of interpreting Trump's role in stoking the white supremacist violence espoused by one of the shooters. It was a headline so determined be "objective," that it overlooked what actually happened.
People on Twitter, including several of the 2020 Democratic presidential candidates, quickly reacted to the headline's description, which was so devoid of context as to actually misrepresent Trump's speech — and the part of his base that has embraced hateful, racist rhetoric very recently, like the crowd at one of his rallies last week that chanted "send her back" about Representative Ilhan Omar.
"Trump urges unity vs. racism" may have been conceived as a simplified summary of one aspect of the address he gave on Monday, in which Trump read, from a teleprompter: "In one voice our nation must condemn racism, bigotry and white supremacy." But it ignored the many times Trump has all but encouraged supporters to tackle the problem of "invading" migrants at our borders themselves, demonizing asylum seekers as "animals" and "criminals." At a rally in May, he asked his audience, "What can you do with these people," to which one man shouted, "Shoot them!"; two months later, the El Paso shooter specifically targeted a Walmart near the southern border, with predominantly Latinx customers, killing 21 people and leaving a white supremacist manifesto behind. And Trump has inflamed racial tensions throughout his presidency, over and over again, including when he said there were "good people" on both sides at the Unite the Right rally two years ago in Charlottesville, where a white supremacist murdered activist Heather Heyer.
After the blowback, the Times released a second edition with a different headline, "Assailing Hate But Not Guns." Closer, maybe, but still missing the point. Trump also assailed video games, social media, and the internet in his address, in addition to failing to call for stronger background checks or any meaningful movement on gun-reform legislation. Trump's speech urged very little outside of platitudes.
Executive editor Dean Baquet admitted Tuesday that "the headline was bad," but stood behind the reporting of the story, which was much more skeptical of Trump's speech (during which he also mistakenly referred to the shooting as happening in Toledo, instead of Dayton) than the headline implied. The online version of the story is now under a headline that says "Trump Condemns White Supremacy But Stops Short of Major Gun Controls." But #CancelNYT is trending on Twitter, where outraged users are fed up with the paper's strenuous attempts at remaining "objective." At some point, that tendency has started to look like bias.