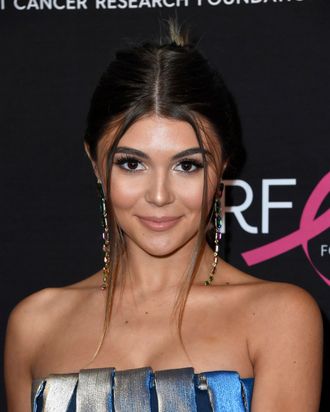 Photo: Frazer Harrison/Getty Images
It's every teenager's moral obligation to have a "fuck the world" moment at some point in their lives. But when it comes to a famous kid whose rich parents allegedly illegally conspired to get them into a college the kid had no desire to go to in the first place, the "world" might just be mainstream media.
Today, on this holy day of the Sabbath, scorned influencer Olivia Jade made an announcement to media outlets that published reported exclusives based on sources close to the 19-year-old. In a photo posted to her Instagram, Olivia Jade tagged Daily Mail, Star Magazine, People, Perez Hilton, and "every other media outlet," which I shall assume includes the Cut. The message? A cool fuck you.
In the pic, Olivia Jade is seen wearing a faded Snoop Dogg T-shirt; a weak smize spreads across her face as she holds up her two unmanicured middle fingers at the camera, serving up a dose of that rebellious teen energy.
Olivia Jade's parents, Fuller House star Lori Loughlin and fashion designer Mossimo Giannulli, were accused of paying thousands of dollars to get their daughters admitted into the University of Southern California. Since news of the scandal broke, Olivia Jade had been keeping quiet on social media for the most part. Until now, that is.
In recent years, the beauty vlogger managed to score endorsement deals with brands like Too Faced and Marc Jacobs Beauty, but was subsequently dropped by Sephora, TRESemmé, and Estée Lauder amid the scandal. While Olivia Jade is reported to be dropping out of school to officially focus on her career as an influencer, it will be interesting to see whether brands end up wanting to work with her again.
In the meantime, perhaps she can make Spencer Pratt's wish come true and join the cast of The Hills: New Beginnings.
This post has been updated to reflect the fact that Lori Loughlin and Mossimo Giannulli have not pleaded guilty.