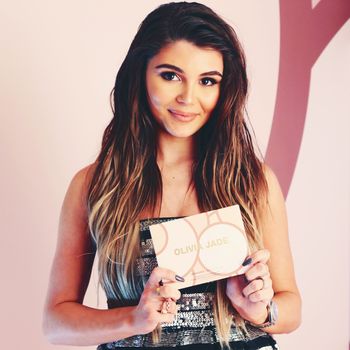 The natural next step on Olivia Jade's hero's journey.
Photo: Gabriel Olsen/Getty Images for Sephora Collection
After an extended hiatus due to a heavy dose of (alleged) familial fraud, disgraced vlogger Olivia Jade will embrace her destiny: The 19-year-old reportedly plans to quit college for a life of full-time influencing. Sorry but you can't fight fate!
"Olivia has no plans to return to USC. She never wanted to attend USC to begin with, and now she is sure that USC isn't the place for her," a source close to the rising sophomore told Entertainment Tonight, confirming a widely criticized comment Olivia Jade once made on her vlog. "Right now her goal is to rebuild her brand and her business."
Before the FBI busted her parents — Full House alum Lori Loughlin and fashion designer Mossimo Giannulli — for, allegedly, paying admitted scammer William "Rick" Singer $500,000 to fake their daughters' way into the University of Southern California, Olivia Jade enjoyed a lucrative career as a YouTube star. Once Operation Varsity Blues became national news, however, both her teenage fan base and her big-name brand sponsors abandoned her: HP pulled out, followed in rapid succession by Sephora, TRESemmé, and Estée Lauder Companies.
Whether or not Olivia Jade — who may or may not have been complicit in the scheme from the start — would return to USC became, in the aftermath of the college cheating scandal, less a question of her commitment to academia than to her personal brand. In May, someone in the YouTuber's circle told Us Weekly that she "knows they [USC] won't let her back in," but that she was "hoping this info gets out." Olivia Jade, the source seemed to suggest, was courting public sympathy as a means of reviving her influencer status.
"She wants to come out looking like she's changed, learned life lessons and is growing as a person," that source said, "so she for sure wants people to think she is interested in her education."
And now, with the despair portion of her hero's journey apparently behind her, Olivia Jade reportedly intends to build a new brand based either on makeup or beauty. She will do this not with the help of Aunt Becky — towards whom she still feels "some resentment," according to ET, for creating a "scandal has marked her and will never entirely go away" — but her father, who "understands business." And also, according to one report, how to leverage a fraudulent college career into a company.