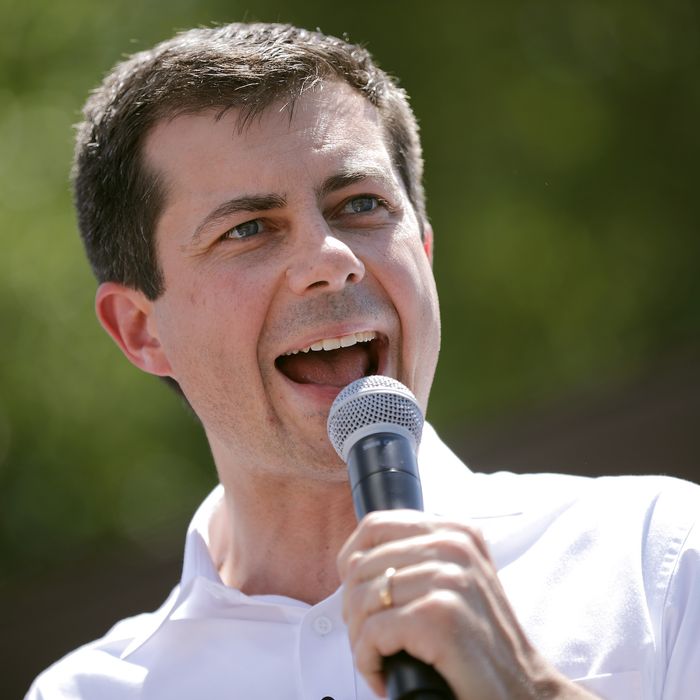 Photo: Chip Somodevilla/Getty Images
If the New York Times ends up doing another video series asking the Democratic candidates specific personal questions, but about their skin-care routines, they can feel free to skip Pete Buttigieg. Quite frankly, I'm afraid to learn just what Mayor Pete uses to cleanse his face!
On August 13, Buttigieg attended the Iowa State Fair, where he participated in the Des Moines Register Political Soapbox. An audience member asked Buttigieg for general advice for teens starting college, and Buttigieg gave an answer that shook me to my core. "Dish soap and hand soap are pretty much the same thing," he replied. "Took me a while to figure that out."
This is the second terrifying beauty-related thing I've witnessed this week. The first was when I watched the Netflix documentary, The Great Hack, and saw Brittany Kaiser aggressively pulling down her eyelid to apply liquid eyeliner. It had been keeping me up all night, and now this will, too.
While I'm all for a multipurpose product — and I'm sure Mayor Pete was keeping college frugality in mind — we shouldn't steer Generation Z into a life of bad skin-care decisions. Especially when it comes to a topic that, according to my Google detective work, is on a lot of people's minds.
If Mayor Pete wants to win the nomination, he must know the importance of a good cleanser. The skin on your hands, much less your face, is much more delicate than the surface of that pizza pan you use to toast your Totino's pizza rolls. We have to handle it with care. In the meantime, perhaps Buttigieg can ask one of his celebrity donor friends for some product recs.