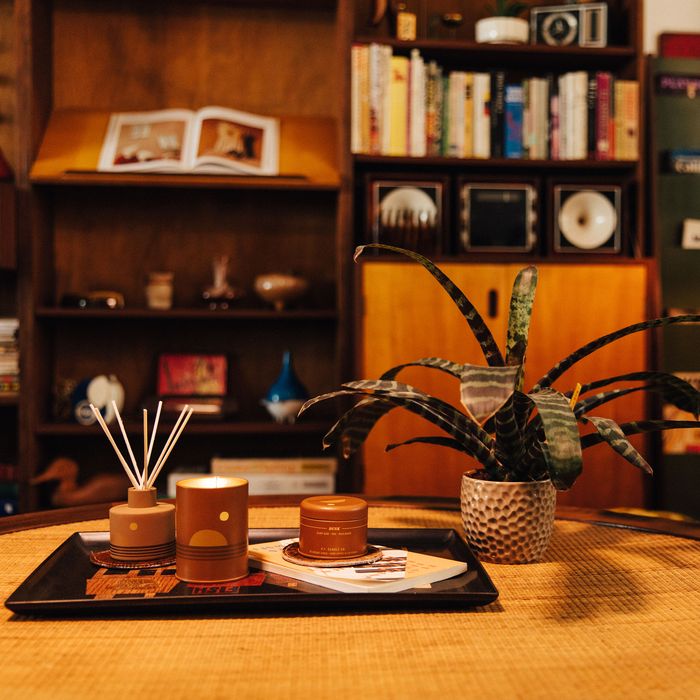 Photo: Courtesy of PF Candle
Let's all share a moment for the status candles that have made our apartments smell like burning wood and burning wax — but in a chic way. And we've found the next one — PF Candle Co.'s Sunset collection, inspired by Californian summers. The scents — Swell, Golden Hour, Dusk, and Moonrise — capture that carefree SoCal attitude, as do the terracotta and amber vessels, emblazoned with a sunset design straight out of a '70s summer-camp brochure. Now, summer is not known for being a candle-burning season, but have you considered status incense instead? PF Candle launched its first incense cone, and also has reed diffusers for those who prefer a flame-free experience.
The four scents include such hippie scent staples as Palo Santo, Clary Sage, and Sea Moss, with curveballs like Tuberose and Yuzu. So when you'd like to pretend you're on vacation close to the beach, the candle can get you just a little bit closer to that feeling. The whole collection is available now on the PF Candle Co. site, and costs $16 for incense, $25 for a candle, and $34 for a reed diffuser — not a bad price for a quality candle.