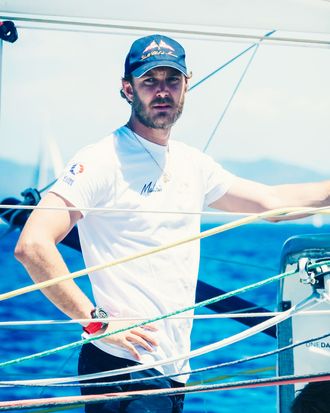 Photo: Arnold Jerocki/Getty Images
Teenage climate activist Greta Thunberg is currently sailing on a racing yacht across the Atlantic to attend climate talks in New York without contributing to fossil-fuel emissions. The boat has no toilet, running water, or hot food — but prepare to feel satiated by the sailors on this carbon-neutral vessel, including its owner, Grace Kelly's grandson, a Monegasque royal (that means a prince of Monaco) named Pierre Casiraghi. Pierre … Ahoy.
Casiraghi, 31, owns the Malizia II, one of only a few racing sailboats in the world with a totally neutral carbon footprint. When he isn't ferrying climate-conscious youths across the sea, Casiraghi is, well, a prince doing prince things in the tiny, extremely wealthy principality of Monaco. (If you want to get a feel for Monaco, may I suggest you check out the extremely ridiculous Julia Stiles soap opera Riviera.)
Prince things include: hanging out with his wife (unfortunately), an Italian aristocrat and media personality, and their two children; running his father's construction empire; lots of sailboat racing; playing the saxophone; and once getting punched in the face in a 2012 Manhattan bar fight, along with Greek shipping heir and Lindsay Lohan's former fiancé Stavros Niarchos.
Interested parties can keep up with Casiraghi as he sails with Thunberg, her father, a documentary filmmaker, and German ship captain Boris Herrmann (also hot) via the sailing team's Instagram. The crew is halfway through its journey to bring awareness to the urgency of addressing climate change internationally and also to hot eco-royal energy. Maybe Casiraghi's next project will be to hold the Formula 1 Monaco Grand Prix entirely with Toyota Priuses.
Here's Casiraghi in a fisherman's bucket hat:
Here is some crucial beard detail:
I love competitive sailing: