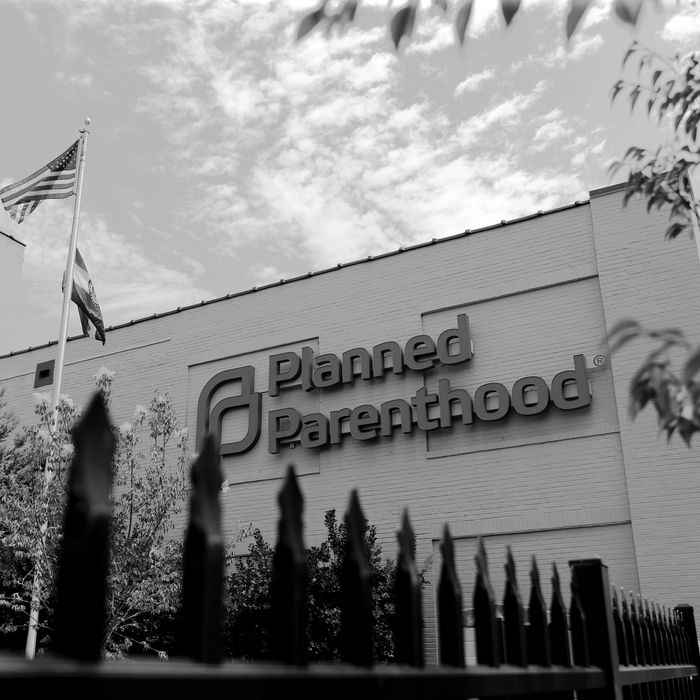 Photo: Jeff Roberson/AP/Shutterstock
Yesterday, Planned Parenthood announced that it would withdraw from Title X, a federal family planning program that helps poor women access birth control and other health services. As a result, the organization will lose about $60 million a year in federal funding. The decision was made in response to a new Trump administration rule which forbids Title X clinics from referring patients for abortions. Planned Parenthood says the rule would force clinics to withhold medical information from patients, and so withdrawing from Title X was its only option. But the decision is likely to have consequences for women's health care anyway. Here's everything we know about the Trump administration's latest effort to chip away at reproductive rights, and what it will mean for American women.
What is Title X, exactly?
Title X, which was enacted in 1970, is a federal family planning program that provides more than $260 million a year to fund contraception, screenings for STDs, breast and cervical cancer, and other reproductive health services to low-income women.
In an editorial published yesterday, the New York Times referred to Title X as "an unsung hero of American public health." According to the Times:
In 2017, Title X clinics served more than four million women, 42 percent of them uninsured, according to the federal Office of Population Affairs, which administers the program. The Guttmacher Institute, a research group that supports reproductive rights, found that Title X clinics helped prevent more than 822,000 unintended pregnancies in 2015.
Until now, Planned Parenthood has received around $60 million a year in Title X funds, which went towards providing more than 1.5 million low-income women with services like birth control, pregnancy tests, and sexually transmitted disease tests. According to officials, the organization has served 40 percent of the nation's 4 million annual Title X recipients.
How does the Trump administration rule change things?
The "Protect Life Rule," which was announced earlier this year, prohibits clinics receiving Title X funds from referring patients for abortion, except in cases of rape, incest, or medical emergency. It's worth noting that it was already the case that Title X could not be used to fund abortions; the new rule also states that clinics participating in Title X can no longer provide abortions.
The Department of Health and Human Services required Title X grantees to submit an "assurance and action plan" by August 19 showing that they would comply with the new rule. After their request to stay that deadline was declined by the United States Court of Appeals for the Ninth Circuit last week, Planned Parenthood decided they would rather withdraw from Title X than comply with the new rule.
Alexis McGill Johnson, the acting president of Planned Parenthood, called the new rule "unethical," and accused the administration of forcing the organization out of Title X. "We will not be bullied into withholding abortion information from our patients," Johnson told the Washington Post on Monday. "Our patients deserve to make their own health care decisions, not to be forced to have Donald Trump or Mike Pence make those decisions for them."
What will this change mean for women?
On Monday, Johnson told NPR that "the impact of the Trump administration's gag rule will reverberate across the country." According to officials, patients are likely to experience longer wait times and higher costs for reproductive health care as a result. While the full effects of Planned Parenthood's withdrawal from Title X is not yet clear — and is likely to vary from state to state — it will almost certainly make it more difficult for many women, especially poor women, to access to birth control.
Though anti-abortion groups are celebrating Trump's efforts to defund Planned Parenthood, the organization will continue to receive about $400 million annually in Medicaid funds.
However, the gag rule will have an impact on smaller, independent clinics as well. Maine Family Planning announced yesterday that it will also withdraw from Title X due to the new restrictions. Emily Nestler, an attorney for the Center for Reproductive Rights, told NPR that the rule could force as many as 15 clinics to close in Maine. "Today is the tipping point, I think, and you're going to really see the unwinding of a program that has provided extraordinary care and been a huge success for decades," Nestler said.
Is the 'gag rule' being challenged in court?
Yes. Planned Parenthood, Maine Family Planning, and more than 20 states have challenged the rule in court. However, last month, a federal appeals court ruled that the policy change could take effect while legal cases were pending.