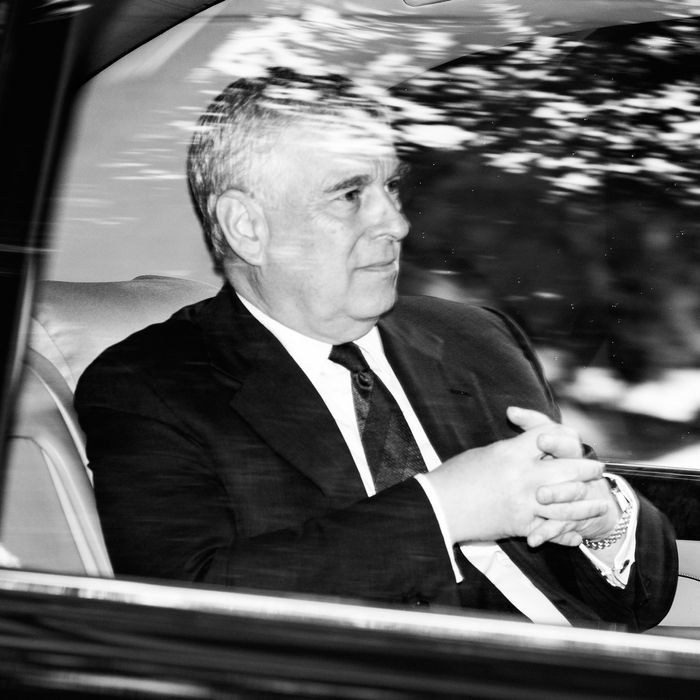 Queen Elizabeth and Prince Andrew on August 11.
Photo: Duncan McGlynn/Getty Images
On Friday, August 9, hundreds of pages of court documents were unsealed in New York federal court containing yet more horrifying details of the alleged sex-trafficking empire of convicted sex offender Jeffrey Epstein. Numerous powerful men were named in the court briefs — among them Prince Andrew, whose years-long friendship with Epstein was hardly a secret. (He has repeatedly denied having any knowledge of Epstein's alleged crimes.) On the morning of Saturday, August 10, around 9 a.m., news broke of Epstein's death by apparent suicide in a Manhattan jail. And on Sunday morning, August 11, Prince Andrew and his mother, Queen Elizabeth, went to church.
It was a silent statement but perhaps the royal family's loudest to date regarding the allegations against Andrew. While on her annual monthlong summer vacation in Scotland, the 93-year-old monarch smiled for the cameras through her car window after leaving services at Crathie Kirk Church in Aberdeenshire; seated at her left hand was her 59-year-old son, who grinned toothily as he knit his fingers together.
It wasn't Andrew's first public appearance since Epstein's bombshell July 6 arrest on federal charges of sex-trafficking minors — he'd gleefully attended and even handed out prizes at a horse race in late July — but it was his first after Epstein's death, and the first after yet more allegations had emerged against him in those unsealed documents.
In 2015, in a lawsuit filed against Epstein's alleged madam Ghislaine Maxwell, a woman named Virginia Roberts Giuffre claimed she was forced to have sex with the prince on three occasions when she was underage. One of the most damaging visuals of the entire Epstein case is a 2001 photo of Andrew with his arm snaked around the midriff of a then-17-year-old Giuffre. And the newly released documents from the Giuffre case provide more details around Andrew's alleged involvement: In an unsealed deposition, a woman named Johanna Sjöberg testified that Andrew had groped her breasts while in Giuffre's presence.
The royal family has issued denials after every round of accusations regarding Andrew's behavior in Epstein's company. Over the weekend, regarding the new Sjöberg testimony, Buckingham Palace said in a statement to NBC News, "This relates to proceedings in the United States, to which the Duke of York is not a party. Any suggestion of impropriety with underage minors is categorically untrue."
At the time of Giuffre's 2015 suit, the palace released a nearly identical statement. "This relates to longstanding and ongoing civil proceedings in the U.S., to which the Duke of York is not a party," quoted the Guardian. "As such we would not comment in detail. However, for the avoidance of doubt, any suggestion of impropriety with underage minors is categorically untrue."
The language of these statements seems to suggest that a British person couldn't possibly understand an American criminal case. But it is undeniable that Prince Andrew remained connected with Epstein even after he'd pleaded guilty to soliciting a minor for sex in 2008: The two buddies were photographed strolling through Central Park in December 2010, and the Post reported later that winter that Andrew had flown to New York to celebrate Epstein's release from jail at the East 71st Street mansion.
Andrew's ex-wife, Sarah Ferguson, also stayed close to Epstein — she borrowed money from him in March 2011 to pay off some debts. She has since apologized for doing so. "I abhor paedophilia and any sexual abuse of children and know that this was a gigantic error of judgement on my behalf," she said in an interview with the Evening Standard. "I am just so contrite I cannot say. Whenever I can I will repay the money and will have nothing ever to do with Jeffrey Epstein ever again."
The new accusation and Epstein's death have brought increased attention to Andrew from the British outlets, landing the old Central Park photo on the covers of the Sunday editions of the Express and Daily Mail, which hit newsstands as the royals were getting ready for church.
Epstein's death won't make the case go away for Andrew, and the queen's choice to trot him out on Sunday speaks volumes more about her support of her chronically problematic son than the standard nonsensical non-statements from her staff.
Through it all, Queen Elizabeth, as is customary, grits her teeth and waves.