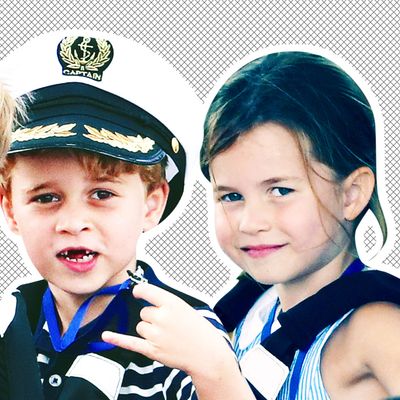 All aboard that's coming aboard! Prince William, Kate Middleton, and two of their three kiddos were present today for the King's Cup regatta, and they must have wanted us to break out every maritime pun known to English-speaking man for the occasion. Otherwise they wouldn't have dressed the way they did.
The Cambridges set sail from the Isle of Wight for the inaugural boat race, which sought to draw attention and raise funds for eight of their royal patronages, including Centrepoint (the U.K.'s leading charity for homeless youth) and Action on Addiction (which provides addiction treatment and education). Will and Kate served as skippers of individual boats, so they raced each other throughout the regatta. The results were complicated even for those of us who know port from starboard, but here's a summary:
While their parents were busy making waves and/or losing, the Cambridge kids watched from the decks of a nearby boat while wearing some unbearably jaunty striped ensembles. The future-future king of England, Prince George, wore a navy-and-white-striped polo shirt with a captain's hat and revealed that he has lost yet another front tooth since his birthday portraits a few weeks ago. Hello, tiny sailor.
Princess Charlotte wore a paler-blue-and-white-striped dress with a white Peter Pan collar by Ralph Lauren Kids. Both accessorized with life jackets. They sat with their maternal grandparents, Michael and Carole Middleton, who maintained the color scheme in red and navy jackets, respectively.
The big event was held a day early, due to predicted storms on the high seas for Friday. We just hope it wasn't too abrupt a change for the kids' playdate schedules; otherwise their parents really ought to walk the plank. Anchors aweigh! (Sorry.)