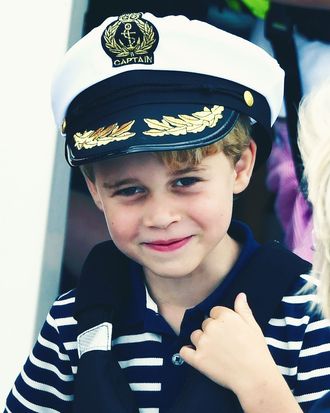 Prince George.
Photo: Karwai Tang/WireImage/Getty Images
This week, Prince George, the eldest child of Prince William and Kate Middleton, who occasionally goes by "Archie" or "P.G.," starts Year 2 at Thomas's Battersea School in London. According to People, in addition, presumably, to nose-picking and learning his first cuss words, the 6-year-old's curriculum will include math, English, science, history, geography, religious studies, French, computing, art/design technology, music, drama, P.E., and ballet. This seems like a lot of information for such a small human to be presented with, but knowledge is power, children are our future, and George is a prince, so good for him.
When sharing the tiny royal's school schedule on Thursday's episode of Good Morning America, though, co-host Lara Spencer made a big deal about George taking ballet, because …? He's a boy, I guess?
After saying that George would be taking ballet, Spencer burst out laughing, and as a picture of the 6-year-old appeared onscreen said, "Oh, he looks SO happy about the ballet!"
"Prince William said, 'George absolutely loves ballet,'" she added. "I have news for you, William. We'll see how long that lasts."
What?
People quickly criticized Spencer for (1) mocking a child and (2) reinforcing the idea that young boys will be shamed for participating in dance and the arts. On Instagram, choreographer Brian Friedman responded to the segment, writing, "Growing up as a dancer I was bullied horribly which is exactly what this is. She is teaching the word that it is ok to laugh at boys for dancing and that is so sad. Just think about the young boys who may have seen this and could quit their passion at her expense."
After the backlash, Spencer apologized the next day, writing in her own Instagram post, alongside a picture of mountains and lavender, "My sincere apologies for an insensitive comment I made in pop news yesterday. From ballet to anything one wants to explore in life, I say GO FOR IT. I fully believe we should all be free to pursue our passions. Go climb your mountain — and love every minute of it."
She apologized again on Monday, saying she "screwed up" and that the comment she made "was stupid and insensitive and I am deeply sorry." Spencer also spoke to three male ballet dancers, Travis Wall, Fabrice Calmels and Robbie Fairchild, about their experiences. Fairchild described being mocked in middle school for doing ballet. "I can't tell you how much that hurts."
"It has been a true education for me," Spencer told the dancers.
Ballet aside, maybe this will be the year George really fine-tunes some of his signature burns.
This post has been updated.