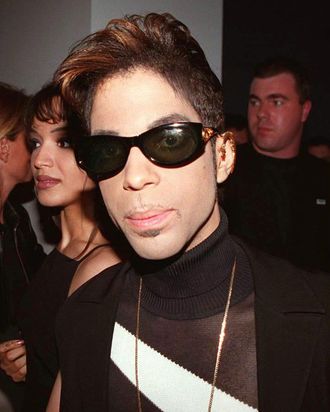 Prince.
Photo: Jon Levy/AFP/Getty Images
There are few people who truly live up to the term "fashion icon," but Prince was one of them. The late musical artist had his own sense of style — one that extended far beyond trends, logos, and gender norms. There was one brand he favored, though, and that was Versace.
Prince considered Gianni and Donatella Versace among his close personal friends. He starred in the brand's campaigns, shared unreleased music with the pop-obsessed designers, and performed at a handful of Donatella's shows and after-parties over the years. In 2011, he even agreed to sing at her H&M x Versace collaboration launch, with Nicki Minaj as his opener.
At Versace's couture presentation in July 1995, when Gianni was still alive, guests were given a priceless takeaway: cassettes containing club remixes of tracks that would later appear on Prince's record, The Gold Experience, as well as other unreleased recordings. Titled The Versace Experience (Prelude 2 Gold), these tapes were, and still are, a true fashion grail, with copies reportedly selling for more than $4,000 online.
This week, Prince's estate announced that it would be reissuing The Versace Experience in various forms on September 13. You can preorder them now on Prince's website, but in the meantime, "Pussy Control," or "P. Control," as featured on the Versace tape, is streaming digitally. Close your eyes, listen below, and pretend that you're holding court with Prince, Donatella, and Gianni at a Miami club.