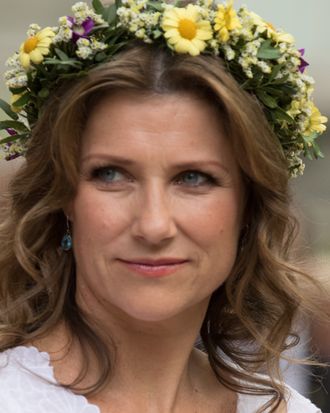 Photo: Ragnar Singsaas/Getty Images
It seems like ever since Princess Märtha Louise of Norway began dating a shaman, her spiritual pursuits have increased even more. Earlier this year, she and her "twin flame," Shaman Durek Verret, hosted seminars and workshops in Norway titled "The Princess and the Shaman," which promised to take attendees "on a self-discovery into wisdoms to reveal to you your divine self activated." Now, the princess has announced she will be separating business from royal life by removing her tile from her work endeavors.
According to People, Princess Märtha Louise made the announcement on her Instagram, pointing to past criticisms of her decision to use her title in her collaboration with Verret. She wrote, "The fact that I used Princess in the title of my tour, I have said before that I am very sorry, and I still stand by that. It was a mistake and I understand that it provokes when the princess title is used this way. The discussions are something I have taken seriously, and in collaboration with my family we have found that it is best that we make some changes."
Princess Märtha Louise went on to say that while she will be using her "Princess" title during royal matters, she'll only go by Märtha Louise for work. As part of the switch, the princess launched a separate work Instagram called @martha.louise.intuitive. The account already promotes a new webinar with Verret in which they will discuss "love, life and change on this planet." Divine!
Over the years, Märtha Louise has managed to build a career out of her spiritual leanings. She has claimed to be clairvoyant, and studied to become a physiotherapist, earning certification as a Rosen Method bodywork practitioner. In 2007, she teamed up with fellow psychic Elisabeth Nordeng and opened the Astarte Education School (later known as Soulspring), which aimed to "help people get in touch with their angels" — another partnership she was criticized for — though it seems to have shut down last year. Märtha Louise also authored several books, including one called The Spiritual Password: Enter Your New World of Bliss, which she co-wrote with Nordeng. In a 2016 interview, she talked about being able to "see into the other world all the time." She might be my favorite royal.
"Let's explore life and go on adventures together," Märtha Louise wrote in a post on her new Instagram. Yes, Märtha, let's. Can't really argue with that!