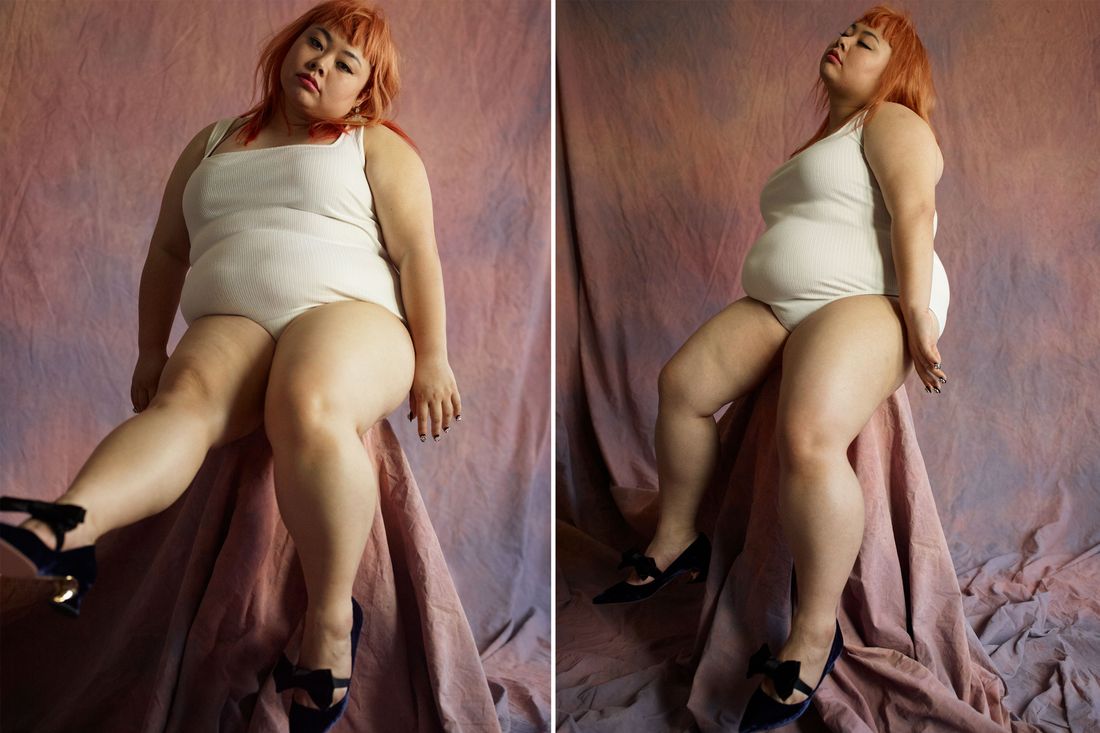 The first time Naomi Watanabe saw herself on TV was also the first time she realized she might be fat. It was 2008, and the comedian was making her debut on a Japanese variety show, called Waratte Iitomo!, lip-syncing and gyrating as Beyoncé to the title song from Dreamgirls. In Japan, the art of campy celebrity impression is known as monomane. But no one who looked like Watanabe had ever attempted Beyoncé before (the word "twerk" or its equivalent still doesn't even exist in Japanese).
"I saw it and thought, 'Oh, I might be curvy. Hahahahaha,'" she tells me through a translator. "It's not that I love myself because I am fat. I just love who I am right now. Whatever body I have today, I like to embrace that. That's my self love: Love yourself at whatever size you have today."
A decade later, at 31, Watanabe is the country's most followed person on Instagram with 9 million followers. She has her own permanent filter on the app, which gives you a different wacky style every few months (right now, it's baby bangs, pink lipstick, lots of lashes, and braided mini hair buns that make you look like a baby tiger). Walking through Shibuya's four-way crossing, the busy area of Tokyo where Scarlett Johansson wandered in Lost in Translation, Watanabe's smiling face appears no fewer than 15 times in ads for fancy fruity water, lipstick, and clothing. A Japanese railway company named a train after her. In 2018, she was one of Time's "25 Most Influential People on the Internet." But few people in America and the world know her yet. She'd like to change that.
"I'd love to make everyone laugh. Not just Japanese people," she says.
Despite being known as the "Beyoncé of Japan," she's more a mash-up of America's more popular female boundary-pushers. Mix Lady Gaga's defiant underdog attitude and ambition with Lizzo's body positivity, Cardi B's social-media skills, and Aidy Bryant's sense of girlish joy, and you see why everyone in Japan — from the very young to the very old — adores her.
In 2014, Watanabe launched her own fashion line, Punyus, meant to sound like the Japanese word for "pudgy" (the Japanese often use it to describe baby cheeks), with clothes designed for women up to size 22. While shooting an episode of Girls in Japan, Lena Dunham discovered Punyus and praised Watanabe in an Instagram post by saying, "It's hard to find great clothes for curvy women anywhere, but especially in Japan where petite and cute seem synonymous so yeah, she's kind of radical." Tan France, who worked with Watanabe on an upcoming season of Queer Eye set in Japan, said in an email that she's "truly effervescent. In a sea of Japanese stars, Naomi shines so bright, as she seems almost fearless and ready to just make you happy, no matter what."
When we meet, it's one of the hottest days of New York summer. Watanabe has recently moved to the city from Tokyo. In Japan, she has to wear a disguise in public to avoid being mobbed by fans who shout out, "Naomi-chan." On the Lower East Side, she fits right in. Watanabe has not one but two Chanel quilted mini-backpacks, a fancy Japanese e-cigarette, and wears Gucci rubber slides, jeans, and a Punyus T-shirt with a drawing of a woman wearing a monokini that even Emily Ratajkowski might deem "a little too revealing."
It's technically Naomi's second time living in the city. In 2014, she saved up her money to live here for three months studying English. She's back for longer this time to soak up American culture and the creative energy of the city, and to learn a little more English, relying on friends around her to translate in the meantime. "In NYC, you have to fight every single day. You have to speak out and be vocal about what you want. In my opinion, in Japanese culture, when you say your point of view, people think you're a snob or are bragging," she says. "Here, everyone says what they want and are thinking."
"By the end of the year," she says, "I want to learn to clap back at other people. In English."
Watanabe, who is half-Japanese and half-Taiwanese, started performing at 18 against the wishes of her mother. "I didn't grow up in the best environment. I turned to music and comedy to take my mind off my parents fighting. To break the silence or clear negative air, I would say something funny and make my parents laugh. That's what got me hooked on it."
"When I make people laugh, it gives me joy. The feeling is something you can't describe. It's almost orgasmic," she says.
When I laugh a little too loudly at her answer, she deadpans. "That felt good."
At 20, she broke into monomane, primarily impersonating Beyoncé, or occasionally Lady Gaga. Over time, Watanabe became a regular on Japanese variety shows, becoming a key player of the historically male-dominated owarai tarento industry, which directly translates to "talent of laughter," explains Dr. Gitte Marianne Hansen, a senior lecturer in Japanese studies at Newcastle University. Stars of owarai tarento can act, do sketch comedy, sing, play silly games like the ones Jimmy Fallon does with celebrity guests, and provide commentary (everyone who makes fun of the cast on Terrace House's pre-show is owarai tareno).
Watanabe was one of the first comedians in Japan to join Instagram and TikTok. She has been a longtime champion of pocchari, a term which means "chubby cuteness." (If you've liked an Instagram post of a hamster eating miniature pancakes, then you've participated in pocchari.) She's deftly used the medium to showcase her personality and style: She's sung songs about karaage (a Japanese fried chicken), written about how nervous she was to meet Marie Kondo for the first time, taken selfies at the Fendi front row, and Boomeranged her butt shaking in a fringed dress.
In 2013, Watanabe became the inaugural cover star for La Farfa, Japan's first plus-size magazine. The initial run of 50,000 sold out, and the publisher increased the printing to sell 300,000. Watanabe was so loved by readers that she became La Farfa's cover star for an entire year, Oprah style. Its success also made her realize that she could be an activist and voice for body positivity. "I recognized that I could be more vocal about it. In Japan, there are lots of curvy girls who want to enjoy fashion, but don't know where to get it or how to get it. I think about those girls. I want to focus on doing a lot, and being inclusive."
Since the 1980s, Japanese women's weight has been steadily decreasing on average and eating disorders have been on the rise, says Dr. Hansen, who has studied eating disorders in the country. "One aspect of why eating disorders are attractive to some women is because the Japanese ideal for the female body is very thin. But I don't think that's all of it." In the mid-aughts, as Watanabe was making her debut, women began waiting longer to marry, if they ever married at all, and birth rates declined. As gender roles in the country continue to shift, "increasingly, women's bodies become the locus where this conflict is enacted."
"Japan has an incredibly large stigma against people who don't fit: Even after three years, I'm still hyperaware of spaces where I simply don't physically fit," says Mercedes Clewis, a teacher and blogger from Mesquite, Texas, now living in Japan. "And weight is a constant topic: My students are always concerned about gaining or losing weight, my co-workers talk diets and frequently count calories, and all around me are places where I'm not necessarily welcomed as a bigger body. Naomi just makes me want to love my body as fiercely as she loves hers."
It's this attitude that makes Watanabe such a radical figure. "There's a common Japanese proverb that says, 'The nail that sticks up is the nail that gets hammered down.' It suggests that it's better to be silent," says Barbara Molony, professor of Japanese history at Santa Clara University. "Naomi is a comedian, she's a fashion designer, but she also has tremendous self-confidence. That self-confidence is a necessary step for feminism."
Her self-confidence seems practically bionic or so logically simple that it makes you wonder why you don't have it. "Negative comments are a complete waste of time. I know who I am," she says, talking about the bullying she has received on Instagram. "The people who say negative things, they're the ones with body issues. I'm over them, so it's time that they get over them, too."
Watanabe knows that not speaking English is a barrier that could get in the way of her worldwide domination. "I'm working on improving," she tells me, and she's started writing bilingual Instagram captions. Even if you don't speak Japanese, she uses everything she can to garner a laugh. Her face has the full range of emoji, including several which haven't been invented yet. She sometimes plays men in sketches, and will recess her chin, change her walk, and droop her eyes to look more masculine. During the course of our meeting, despite the language barrier, she fully imitates a mean waiter, a critic, and a passionate fan. "Naomi! Naomi! Naomi!" she wails, flopping onto the table, pantomiming passing out. Her style is often tongue-in-cheek: One of her most liked Instagram photos shows her in a bathing suit imprinted with pancakes with butter pats over her breasts. In an ad campaign, her hair is put up in hot rollers, but tacos with trimmings fill the center of each curl.
Still, you won't catch Watanabe calling herself "Fat Naomi," like Rebel Wilson's character in the Pitch Perfect franchise, or as the foil cast against a skinnier person for a laugh, like Chris Farley Chippendale-ing next to Patrick Swayze. She's a physical comedian whose body isn't the punchline. "I've had people ask me this before. 'Are people laughing just because you're fat and dance like Beyoncé?' For me, the answer is completely 'No.' My lip-sync is 100 percent authentic. It's the way I perform," she says.
But that doesn't mean she's superhuman. When I push back on the idea that "all you need is self-love," she levels with me. "I don't always believe in being 100 percent positive. Even the brightest people have a darkness — that's just the balance. When I see someone who is 100 percent positive, I want to be like, Are you okay? Just be yourself."
Watanabe has two favorite compliments. "Dammmmnnnn, she really knows what she's doing," and "Watching Naomi makes me forget all the negative things," she tells me.
"And you want to hear that from everyone?" I ask.
"Of course," she says, in perfect English.