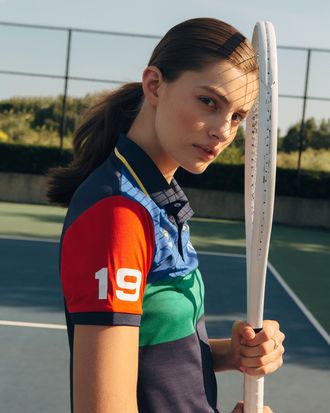 Diana Silvers.
Photo: Courtesy of Ralph Lauren
Like many adults, all I know about TikTok is that the teens are on there and it's where all the best memes come from. But while the vast majority of TikToks have a decidedly homemade quality to them, Ralph Lauren is entering the space with an ad campaign celebrating the U.S. Open and starring youth Diana Silvers. The actress, who you may remember as the girl with the fringe jacket in Booksmart, plays tennis in a series of videos that do feel more like TikTok than, say, a Ralph Lauren TV ad.
TikTok users love a trend, and Ralph Lauren is trying to capitalize on that. This particular challenge is called #winningRL, and users are encouraged to make their own videos where they're, you know, winning, either in tennis or in real life. The ones with the most engagement will even win some Polo Ralph Lauren U.S. Open gear. If you're good at tennis or winning, now's your chance to shine.
This may seem very "How do you do, fellow kids?" but there's evidence that it works for brands. Ralph Lauren says it's the first brand to launch a campaign on TikTok tied to a sporting event, because it wants to "[win] over the next generation of consumers." But it's not the first time a fashion brand has tried to create a challenge hit on TikTok. Earlier this year, Burberry launched the TB challenge, where users were encouraged to make the Burberry logo using their hands. According to Business of Fashion, it generated 30,000 videos and 57 million views. Chipotle also launched a "lid-flip challenge" on TikTok with an influencer that racked up 110,000 video submissions within six days. It's a brave new world.