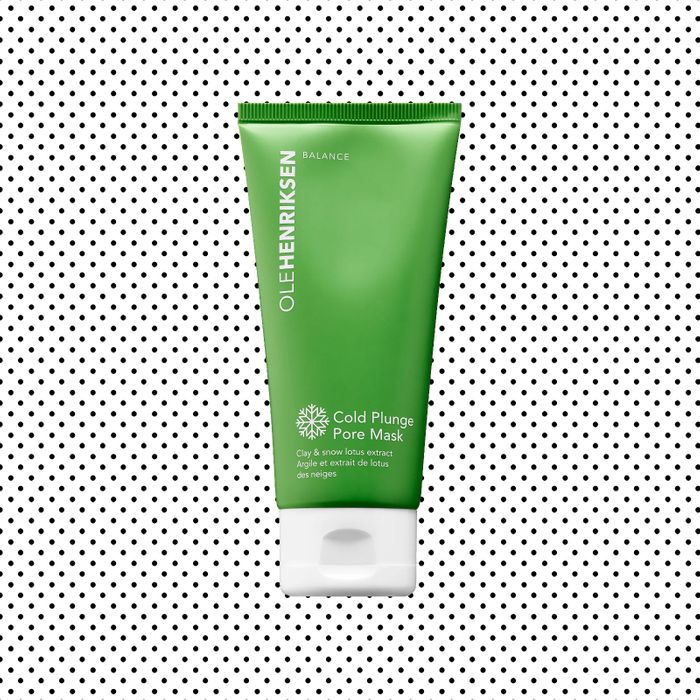 Not too long ago, Diplo faced an existential crisis that he self-soothed by posting an Instagram thirst trap of his abs and a caption about his foray into skin care. While it's not clear what triggered this momentary doubt about the meaning of life in the DJ, what was clear was the bright, sky-blue face mask he slathered over his pores in the picture. "Ola henriksen I can't spell," said Diplo, who responded to Pete Wentz of Fall Out Boy's Instagram comment asking him to drop the mask's name.
Diplo has good taste — Ole Henriksen's Cold Plunge Pore Mask is an Instagram and Sephora favorite and currently has 1,200 five-star reviews. Here's what five women thought of Diplo's taste in smurfy face masks.
Erica Smith, Beauty Writer
This stuff is so blue. Shockingly blue. I kept wanting to put more and more on because, yes, the formula is heavenly and refreshing, but it's so BLUE. You will blue yourself and at least five other things you didn't originally intend to be blue after applying this with your hands. But once I got over how blue I was, I really did enjoy this stuff. It puts you in a good mood and makes you want to have a slumber party. It's also the least-drying clay mask I've ever tried. I didn't feel the need to immediately inject moisture back into my skin once I rinsed, and when I woke up the next morning, my skin looked surprisingly smooth and matte — like I had toned and applied a really good primer when really I just woke up and looked in the mirror. But even if this didn't have any net positives, I'd still recommend you try it, just to see how blue you can get.
Madeleine Aggeler, Staff Writer
When Diplo put on this bright-blue face mask and reminded me that life is short, and encouraged people to reach out if they would like to have a one-night stand, I thought, Yes, okay. The mask is just as bright blue as it looks in Diplo's picture, if not more so.
Putting it on made me feel and look like Mel Gibson in Braveheart, which is fine, I guess. It goes on very smoothly, like an expensive oil paint, and is slightly cooling. Like most face masks, I'm not really sure that it did anything, but my face felt clean and fresh after I rinsed it off, like I had just emerged from a brisk swim off the side of his party yacht. I'll probably keep using it, because like Diplo says, life is short.
Sarah Spellings, Fashion Writer
First impressions: Wow, this color looks FAB on me. Who knew turquoise made my eyes pop like this? I generally don't post face mask selfies on Instagram, but this one earned a coveted spot on my Story.
The most impressive thing about the mask was the color. It also gave me a tingly sensation that was borderline uncomfortable, but maybe I just put it too close to my eyes? After ten minutes, I was counting down to when I could wash it off. But afterward, I did notice that my gigantic pores looked smaller and cleaner. I followed this up with Laneige's water mask, and in the morning my skin felt smooth, bouncy, and less pore-forward.
Daise Bedolla, Social Editor
For a mask called the Cold Plunge, Ole Henriksen's (very blue) pore mask doesn't feel cold. It only felt refreshing after washing my face. The mask did give a glow — but only slightly. I also can't say that the sizes of my pores looked any different.
But maybe I was too distracted from the mask's blue mess. The accompanying brush helped with spreading the mask evenly, but I still managed to get it everywhere. Everything I owned was blue: my robe, my ear, my leg, my desk. Insert the Tobias Fünke joke here.
Devine Blacksher, Fashion Assistant
I loved this mask! It felt like applying paint because the texture is thick and the color is very, very blue. But once it was on my face, I felt this cool, refreshing release. The feeling intensified when I washed the mask off. My favorite part about this mask was how fun it was to have on my face.
If you buy something through our links, New York may earn an affiliate commission.