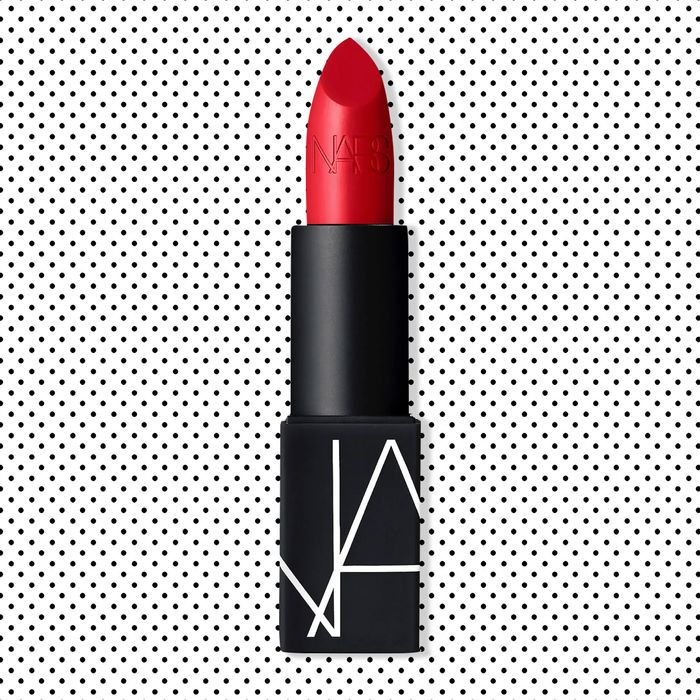 Photo: Courtesy of the Retailer
Would you say you identify with the phrase Hot Voodoo? Or are you more of a Candy Stripper? NARS Cosmetics, the brand behind some of the most legendary (and cheekily named) lipsticks of all time, recently released 72 new colors, along with a new formulation. It's a huge shade range, encompassing mattes, sheers, and satins. Below, several Cut staffers test the shades that most appealed to them. Read on for their reviews.
Devon Sherer, senior producer, Snapchat
I love my NARS matte lipsticks, so I was excited to try the new satin ones. I tested Impulse, a beautiful purply pink. Color-wise, this was great, but application and wear weren't my favorite. I found that it got a little clumpy when I put it on. It's also unforgiving if you accidentally color outside your lip lines. When I took it off after eating (because the color definitely did not stay), the smudges were hard to remove. Also, a warning: This is the type of lipstick that gets on your teeth easily.
Erica Smith, beauty writer
I'm not sure if my lips are just too accustomed to the lightweight feeling of NARS's Velvet Matte pencils and Powermattes, but both the satin and matte formulas of this lipstick (shade: Fire Down Below) felt oddly thick and heavy for tube lipsticks. That's not necessarily all bad — after applying, I felt very reassured that everything would stay in place (and it did), but they're missing the slip and glide that makes the whole application part of lipstick so satisfying. The good news is you definitely won't have a problem finding a color you like; it was very easy for me to find four reds that I really loved within just a few minutes of sifting.
Sarah Spellings, fashion writer
I wear berry-colored lipsticks (Glossier Jam and MAC Rebel, namely) but I was inspired to try something different. Enter the Schiap lipstick from NARS. The color is uplifting and makes me feel like I'm adding some Schiaparelli surrealism into my wardrobe — even though it's just a pink lipstick. But it's super high-quality. I like the velvety matte feel. It's cloudlike and staunchly not sticky.
Does it last? It doesn't not last. I like the ritual of reapplying, so I do it several times a day before it has the chance to wear off. But the color gets everywhere and on everything. I guess that's the hazard of hot-pink lips.
Kathleen Hou, beauty director
This lipstick is called Inappropriate Red, but there's nothing inappropriate about how it lit up my face like it just won the slots jackpot. I was hitting that 4 p.m. slump when I put this on, and the brightness of the color livened up my mood and the poppiness really sung with my skin tone — it looked almost electric. I think this red is going to be a new favorite in the NARS family.
Compared to the old formula, the new one feels a little more powdery and a tad crumbly in texture. It's a little lacking in glide, so you need to press down a bit to apply it. But the drier texture actually makes it last longer, and creates a pretty, blurred effect after you blot it. Just moisturize your lips first before applying!
Aude White, senior communications manager
I'm not sure how I feel about this one, a shade Banned Red. I typically love NARS and have been a devoted fan of their lipsticks in the past, but this just felt so dry. Has the NARS formula gotten dryer or has my tolerance for lipstick significantly decreased? It feels fine on your lips, but it's hard to control how much of it you're applying. You basically just have to apply a thick coat of it or forget about it altogether. The color itself is nice — I just wish it went on a little smoother.
If you buy something through our links, New York may earn an affiliate commission.