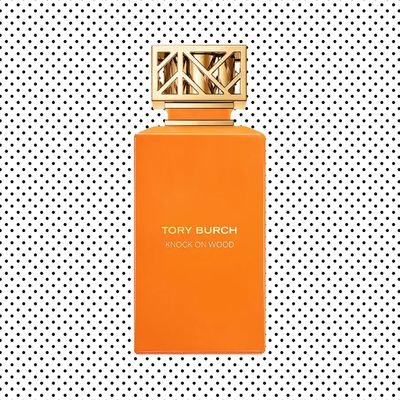 Photo: Courtesy of the Retailer
There's something about the bright orange bottle of Tory Burch's newest fragrance, Knock on Wood, that looks like it belongs in Philip Johnson's Glass House, or at least on the set of The Ice Storm. Or maybe it just reminds me of the interior of Burch's boutiques, which always make me wish my home looked more like them.
I often see a new perfume bottle and gasp over its beauty only to open it and be disappointed. Too often, it's a womp-womp moment, this snobby nose sadly admits. But not with this one.
So many elements of Burch's new scent go against my usual fragrance ethos, starting with the oddly named "blood-orange rose accord." I haven't been a fruity fragrance fan since I was in my 20s (none of your business how long ago that was), and rose is nearing the bottom of my scent preference list. The accord combines both citrus and woodsy elements to create a creamy, smooth, and understated note. Imagine taking a big whiff of slices of luscious blood oranges blanketed in wood chips.
Next, picture a bottle of Fracas barefoot at the beach, wearing a caftan on a late August evening, walking through grassy dunes. That image, frightening as as a reanimated perfume bottle would be, is what this scent smells like to me.
Burch is known for her sophisticated yet approachable scents, ones that don't scream one note over another, often making it tricky to pin down their elements. This latest one is no exception with a Goldilocks-esque balance. If you like woodsy but not too woodsy, floral but not too flowery, and citrus without the sweetness, this could be your next scent.
If you buy something through our links, New York may earn an affiliate commission.