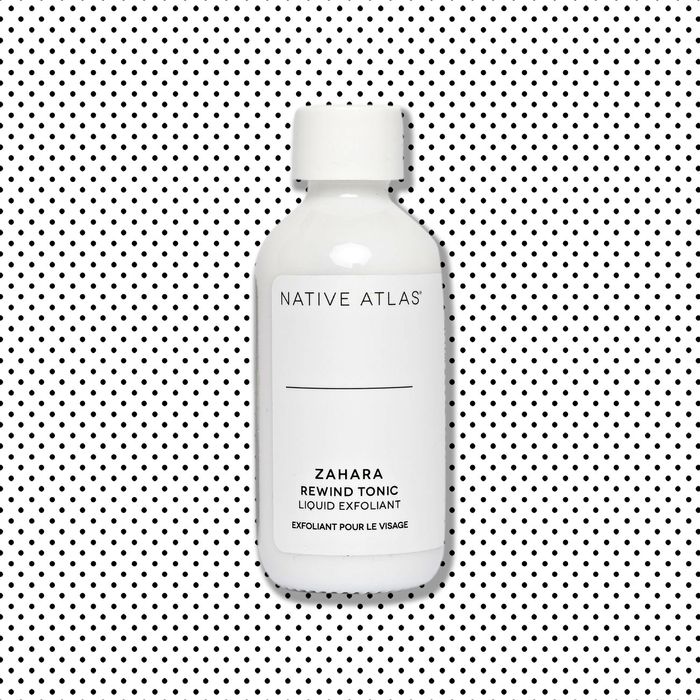 Photo: Courtesy of the Retailer
I just want to say that I've been exfoliating using Biologique Recherche's P50 Lotion long before the rest of you were (like, since 1998 or something), and I've recommended it to more people than I can count. Nothing kills zits in their tracks like P50 does, so I'm not about to toss it out. But I do love that more-natural versions are popping up, like Moon Juice's Beauty Shroom and Native Atlas's Zahara Rewind Tonic.
The latter is a clean-beauty superstar: an alpha-hydroxy and salicylic-acid exfoliant that uses plant-based ingredients to shoo away dead skin cells. Its consistency reminds me of Biologique Recherche's wildly successful P50 Lotion, except the aroma isn't as powerful. (It definitely has a medicinal smell, but I don't mind these kinds of aromas. They make me feel like something is happening!)
Twice a day, after cleansing, I saturate about a dime-size area of a cotton pad with the liquid and wipe it over my face. It dries instantly and makes my skin feel superclean and cool in a way that I imagine aftershave does. And after I use it, my skin looks smoother, with a translucent quality to it.
Native Atlas is a line of sustainable, plant-based beauty products created by Kansas City–based aesthetician Alexia Wambua and her husband. (I found it through Romain Gaillard, the owner of clean-beauty destination Detox Market, who has never steered me wrong.) Of them, I've only tried this tonic and Zahara Enzyme Mask, but if the other seven are as effective as these two, we are going to be hearing a lot more about this brand.
If you buy something through our links, New York may earn an affiliate commission.