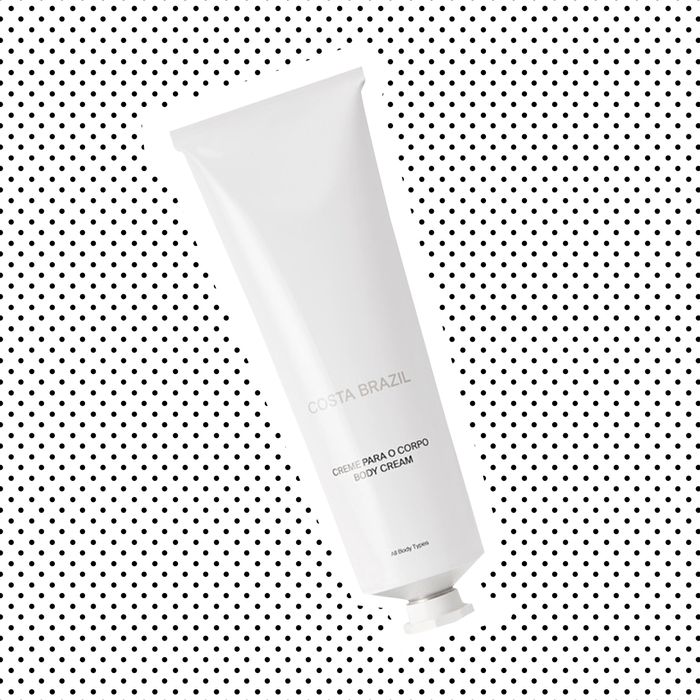 Legend has it that Jennifer Lopez used to slather her entire body in La Mer face cream. Almost as indulgent is the body cream from Costa Brazil, a new brand from former Calvin Klein designer Francisco Costa. The Body Cream is technically a lotion, though it feels wrong to use such a pedestrian word for such a fancy emulsion. Made for use on body and hands, it comes in a crisp white squeeze tube in a design so minimalist, it might even fit in at Calvin Klein's famously spare HQ. Here's what several Cut staffers thought of slathering our knobby joints, itchy mosquito bites, and dry cuticles in pure luxury.
Izzy Grinspan, Senior Editor
Earlier this week, I charged into our editor-in-chief Stella's office in a state of panic, bearing a long and complicated list of questions about various fall projects. "Want some hand cream?" she said, offering me a chic, understated tube. "It smells really nice." So I squished some out. It was just the right texture, thicker than your average cream but not so thick that you couldn't slather it around. And it did smell lovely, with a resin-y tang that felt not especially feminine or masculine, but just really rich.
Suddenly, my hands felt the softest they'd ever been, and I had utterly forgotten why I was in such a state. If you are a boss and your employees are prone to pouncing on you whenever you walk through the door, I highly recommend keeping some of this stuff on your desk.
Kathleen Hou, Beauty Director
I firmly believe that summer is better than fall. Summer is the season of moist skin and endless days. Fall is the season of dry skin and dark nights. This body cream, though, almost makes me wish the weather was colder.
I slathered a little onto my already very moisturized hands — because summer, thank you — assuming I would forget about it immediately. But ten seconds later, I touched it again. Twenty seconds went by, and I touched it a third time and said, "Ooh" out loud. Then I made a bunch of my co-workers put it on.
I now have the softest and most fragrant knuckles in all of New York City. The scent is unusual, a sort of medicinal-but-not-unpleasant woodsy resin — like the scent of a fancy breath class you might take in the Berkshires led by a well-preserved woman in a very beautiful caftan. I look forward to this body cream being the only bright point in a miserable fall and winter.
Diana Tsui, Senior Fashion Market Editor
After a week in Italy, my legs were a wreck. Not only were they dry and scaly from the heat but also covered in mosquito bites. I desperately needed something soothing, this body cream did the trick. The scent was refreshing — vaguely smoky and herbal. It smelled like what you'd imagine a chic, stark minimalist room to be, in perfume form, which was only fitting since Francisco Costa was the master of minimalism during his time at Calvin Klein.
As far as the texture, it was rich and precisely what my poor parched skin needed. My legs soaked up the cream in an instant, and the formerly itchy blotches felt much better. Sure, it's a bit pricey for a bugbite cream and I'm sure hydrocortisone would probably have been better, but sometimes luxury is the best medicine.
Anna Silman, Culture Writer
I was on planes for 14 hours yesterday and my skin feels like it has aged a decade overnight, so I was thrilled when Kathleen gave me this cream to try. I immediately slathered handfuls of it on every inch of exposed skin on my body — apologies to anyone who walked past my desk in the past five minutes — and I felt instantly rejuvenated.
It has a soft whipped-butter consistency that glides on smoothly and a fresh, herbaceous smell that makes me feel like I just spent three hours at a fancy organic spa, instead of the departure lounge at the Minneapolis–Saint Paul airport (don't ask). I'm particularly a fan of the chunky white toothpaste tube it comes in, which is the perfect combination of elegant and medicinal. I just wish it were travel-size so I could bring it with me on my next layover.
Daise Bedolla, Social Editor
Back in my Tumblr days, I was obsessed with "What's in your bag?" posts. This body cream would be right at home in these perfectly curated roundups. Better yet, it's the type of cream that actually does its job and doesn't just look like a chic prop. The velvety texture of the cream felt nice to apply and my hands feel incredibly soft.
It would be an ideal cream were it not for the smell, which vaguely reminds me of a lime tree mixed with Fruit Loops. It's not bad per se, but it's a little too strong. This is not a cream for the fragrance-sensitive.
Nana Agyemang, Instagram Editor
I wear lotion all year round. Even on the most humid days in the summer, I stay moisturized. As soon as I squeezed this lotion onto my palms, I felt rich. It wasn't just because this tube costs close to $100, but because it's a thick, enriching cream.
You need just a pea-size amount of cream, as a little bit of it goes a long way. An hour after putting it on, it feels like it was freshly applied. The smell is powerful, so if you don't like smelly lotions, this might not be for you. Other than that it's a great healer for dry skin.
If you buy something through our links, New York may earn an affiliate commission.