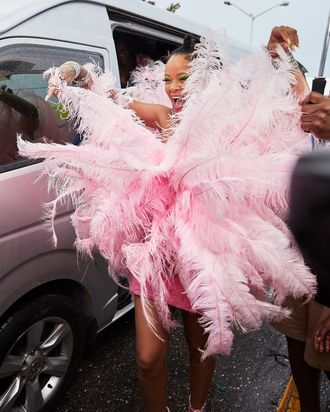 Rihanna.
Photo: SplashNews.com
Each year, the Barbadian festival of Crop Over promises a killer look from Rihanna. For Crop Over 2019, she chose a dress made of a thousand long, pink feathers attached to a tube top. She accessorized with pink stilettos (is that an anklet we spy?) and green eyeshadow straight out of Euphoria.
The last time Rihanna was at Crop Over, she wore a blue wig, a jeweled bikini, and wings made of feathers. That's her standard Crop Over look — bikini, feathers, jewels. A great combination, especially if you're Rihanna, but this year was something a bit different. Designer David Laport made the feathery confection. But, designer Lauren Austin made Rihanna's Crop Over outfits since 2013. Austin told Vogue in 2017, "Crop Over used to be celebrated with people wearing simple T-shirts. Over the years however, designers started getting creative. Today it's very important to dress up in full costume to really and truly feel the Crop Over vibe. It's exhilarating, free, and radiant."
I mean, look how happy Rihanna is — if you were wearing that dress at a party, wouldn't you feel exhilarated, free, and radiant too?