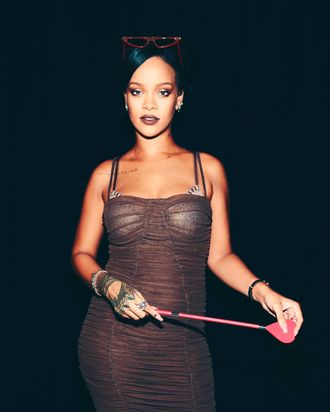 Rihanna.
Photo: Kevin Mazur/Getty Images for Savage X Fenty
The Victoria's Secret fashion show — in all its glittery, uncomfortable, memeable glory — is not airing on network television this year. It is not officially canceled, but, as a colleague said to me, "if the Victoria's Secret fashion show happens in the woods and nobody broadcasts it, did it even happen?" Enter Rihanna, who has been giving us the inclusive, sexier, weirder antidote to Victoria's Secret and its angels. The Savage X Fenty runway show will be broadcast this year on Amazon Prime Video on Friday, September 20.
Last year, the event was half performance art, half runway show featuring the Hadids. For the upcoming edition, according to a release from the brand, Rihanna will be "raising the bar."
"The star-studded evening is set to be a radical departure from tradition, a one-of-a-kind event blending music, fashion, and culture. With exciting surprises around every corner, including performances from some of the hottest acts in music, the show debuts Savage X Fenty's bold and fearless Fall/Winter 2019 collection." Does "the hottest acts in music" include … Rihanna herself? Hopefully.
If you're thinking, I just really don't want to watch any kind of lingerie show, I hear you. But Savage X Fenty is a far cry from Victoria's Secret. Its show didn't hit you over the head with traditional sexiness in the way the Victoria's Secret shows did, although it was, of course, sexy. After the live video streams, it will be available on Amazon Prime to watch again and again. We don't yet know where it will be held — the Savage X Fenty show isn't on the official CFDA fashion-week schedule. But the livestream will include the making of the collection as well as the show itself. Rihanna "couldn't be more excited." The feeling is mutual.