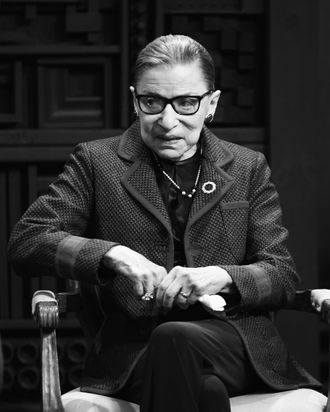 Ruth Bader Ginsburg.
Photo: Robin Marchant/Getty Images
Ruth Bader Ginsburg has been cleared of pancreatic cancer after quietly undergoing outpatient treatment earlier this month, the U.S. Supreme Court announced Friday. The 86-year-old justice reportedly began three weeks of localized radiation therapy for a tumor on her pancreas on August 5, and according to her doctors at Memorial Sloan Kettering Cancer Center in New York City, the cancer does not appear to have spread.
In early July, NPR reports that routine blood testing — Bader Ginsburg has undergone treatment for cancer on a number of other occasions, most recently in late 2018 — pointed to an abnormality, which a subsequent biopsy revealed to be a malignant tumor. In addition to radiation, Bader Ginsburg's doctors placed a stent in her bile duct; overall, she "tolerated treatment well," according to the court's statement, published by the Washington Post.
"She cancelled her annual summer visit to Santa Fe, but has otherwise maintained an active schedule," it says. "The tumor was treated definitively and there is no evidence of disease elsewhere in the body. Justice Ginsburg will continue to have periodic blood tests and scans. No further treatment is needed at this time."
In December 2018, underwent surgery to remove cancerous nodules from her lungs. She has previously battled pancreatic and colorectal cancer, but is famously resilient and committed to an intense fitness regimen. As NPR notes, she kept busy during her time in New York this summer, taking in Broadway shows and causing Kate McKinnon to fangirl (hard).
While her wellbeing has become a particularly anxiety-inducing topic in the wake of Bretty Kavanaugh's appointment to the bench, which skewed the court in conservatives' favor, RBG does not appear to be planning for retirement. Just before she began her treatment for the pancreatic tumor, Bader Ginsburg told NPR that her "dream" is to serve for at least 35 years (she's currently at 26), and pointed to precedent in assuaging fears about her health.
"There was a senator, I think it was after my pancreatic cancer, who announced with great glee that I was going to be dead within six months," Ginsburg said, smiling. "That senator, whose name I have forgotten, is now himself dead, and I am very much alive."