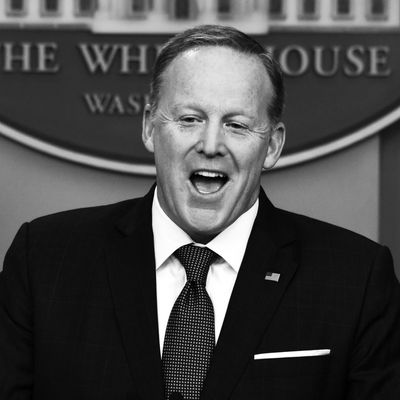 Photo: Olivier Douliery/Bloomberg via Getty Images
Fresh off his controversial gig at Harvard University's Institute of Politics, Sean Spicer is taking his second act to the stage. Spicer, who served as Donald Trump's press secretary for six inglorious months, will show off his best moves on the next season of ABC's Dancing With the Stars:
Great! Everyone's having fun here. It's not as if Spicer devoted himself to a president who keeps people caged on the southern border, where some of them die. Spicer, as a matter of fact, is still in Trump's good graces. The president recently appointed him to serve on the Naval Academy's board of visitors — a reward, maybe, for the fact that Spicer still defends him on cable news. Now Spicer will put on a funny little costume and clown around and he'll get to look like a jester instead of what he is, which is a retired propagandist for a racist.
It's vile. But DWTS doesn't care, and it may be pointless to hector a reality TV show over its amoral commitment to profit. That said, Spicer is not the first right-wing figure the show has helped rehabilitate. Tom DeLay participated, and Tucker Carlson and Bristol Palin; so did Rick Perry, before he became our Secretary of Energy. Even international versions of the show share this tolerance for the right wing. Pauline Hanson, who has said that Australia needed to vaccinate itself against Islam and that she is a victim of anti-white racism, appeared on Dancing With the Stars before she became a member of parliament.
It is very funny to watch people dance badly. But public figures like Sean Spicer are in on the joke, and the punchline is impunity.