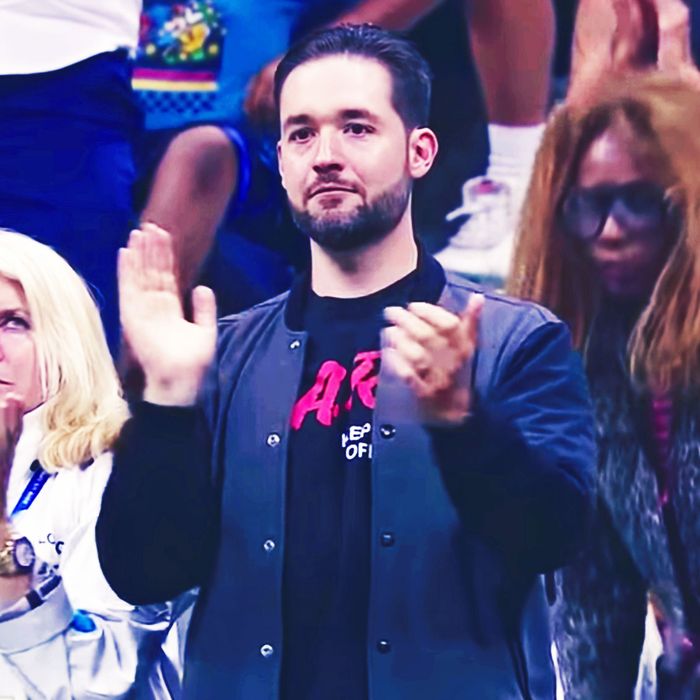 The mark of a truly great husband rests in his ability to be delightfully petty toward his wife's rivals, and in this, Serena Williams's spouse Alexis Ohanian excels.
The 36-year-old Reddit co-founder came to Williams's match against Maria Sharapova at the U.S. Open on Monday, clad in what seemed to be a light jab at his beloved's competitor. Is there anything more romantic? People reports that Ohanian wore a shirt emblazoned with the infamous "D.A.R.E" campaign slogan and below it the words "Keeping Kids Off Drugs." Initially the shirt had been hidden beneath Ohanian's jacket, but when Williams beat Sharapova 6-1, 6-1, he stood up, jacket unbuttoned, iconic '80s anti-drug symbol on full display.
This is world-class shade. As many social media users pointed out, the International Tennis Federation penalized Sharapova with a two-year ban in 2016 or failing a doping test at the Australian Open in January of that year. Ohanian's shirt is almost certainly a comment on the doping scandal, but more important, a love letter to his wife.
There is something of a rivalry between Sharapova and Williams, though it doesn't hinge on matches won. Although Sharapova hasn't won against Williams since 2004, and Williams is one of the greatest players of all time, the Russian was still reportedly the highest-paid female athlete in the world from 2005 until 2015. Sharapova herself has somewhat advanced this narrative of a supposed "feud" by fixating on Williams, writing in her 2017 memoir, "I think Serena hated me for being the skinny kid who beat her, against all odds, at Wimbledon." This year Williams topped Forbes' list of most remunerated female athletes with total earnings of $29.2 million. Sharapova finished in seventh place.