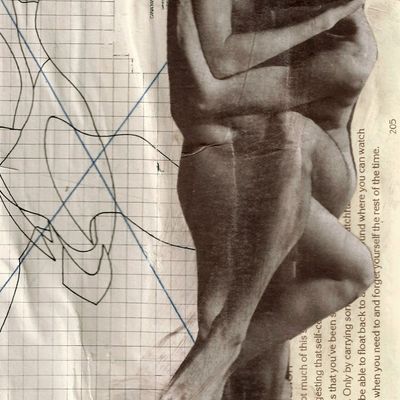 Photo-Illustration: James Gallagher
This week, a woman enjoying the single life, from younger guys to yoga retreats: 45, straight, single, New Haven.
DAY ONE
7:15 a.m. I wake up knowing that my kids are at their dad's place this week. We've been divorced for a couple of years, and we have a very fair shared-custody arrangement and communicate amicably. With no camp lunches to assemble, and no teenagers to yell at to hurry up, I reflexively take out my vibrator and queue up some porn. Massage vids are my current go-to, mixed with some BDSM and threesomes. I orgasm after about ten minutes of gently edging myself.
8:16 a.m. My job is at a nonprofit in the education arena, and most of the staff is on summer break. I chat with co-workers and then put my head down to focus, while also streaming Wimbledon and the Tour de France. I love live sporting events of any kind.
10:20 a.m. Phone buzzes. It's a text from a 28-year-old Tinder match. Plan is to meet at a bar tonight. I really enjoy younger men; I find them more adventurous and refreshingly open, and they tend to have less baggage than the divorced dads my own age. I'm in a good place in terms of being single. I'm not not feeling desperate or looking for a committed relationship, but I'm open to it if it happens.
12:34 p.m. Lunch outside with a co-worker. She likes hearing my dating stories and I prep her on tonight's guy: After working all year on a billionaire's yacht in the Mediterranean, he's home for the summer (read: living with his parents).
4:08 p.m. I cut out of work early and head to the gym, hop on the elliptical while listening to a true-crime podcast, and text Yacht Guy with a bar location since he's driving to meet me in my neck of the woods.
5:36 p.m. Back home, showered and primping. Dressing for a casual date in the summer is confusing. I don't want to look too sexy, but I also don't want to look frumpy. I go with linen shorts, a flirty sleeveless top and platform wedge sandals.
7:02 p.m. I take an Uber to a local brewery. I get there first and order a drink at the bar. I'm 100% against sitting at a table for two during a date, which feels more stuffy and conventional. Yacht Guy walks up soon after. He's very cute in person and we have an easy rapport as he tells me about his world travels.
8:46 p.m. We've both had a couple rounds of drinks, talking effortlessly and enjoying the evening. He hasn't come on to me physically but I haven't made a move either. The brewery is closing at 9:00 (puritanitcal Connecticut laws?) so we head to a dive bar nearby.
10:18 p.m. Outside at the second bar, I reveal my trusty weed pen and we both take a few hits. I ask if I should Uber home or if he'd like to drive me. He doesn't hesitate to choose the latter. I'm excited.
10:40 p.m. Back at my place, I make us drinks. Then Yacht Guy notices my kids' trampoline in the backyard, and suddenly we're bouncing around half naked. This leads to incredibly hot and fun sex, like a water bed on steroids, except with the mosquitos nipping at our naked bodies. Yacht Guy definitely checks the boxes for me in terms of adventurous sex in public (well, outdoor) places. That was my first trampoline sexcapade, but I have enjoyed other semi-public sexual encounters, from getting fingered under a restaurant table to having sex in the men's room at a boutique hotel in NYC. He ends up staying over, which I'm not a big fan of, but I didn't think I should make him drive the 50-plus minutes home.
DAY TWO
6:16 a.m. What is that weird ringtone?! Yacht Guy's phone is buzzing on the side of the bed. Turns out his father needs the car back. I roll over and realize that this is what you get with younger guys. He lets himself out and I sleep in a little later.
9:12 a.m. I roll into work. I'm leaving  in a couple of days for a yoga retreat in the Berkshires, so I need to finish some projects.
10:17 a.m. Yacht Guy checks in to say he got home in one piece and had a good time. We don't make plans, but I figure we'll see each other when I get back from the Berkshires.
5:20 p.m. I meet a girlfriend for happy hour. She's also in her 40s, divorced and dating, so we always have fun stories to trade. She tells me about the private sex club in Hartford she went to over the weekend, where she and her date got drunk and found a room to fool around in while others watched. She isn't ready to swap partners yet, but proposes that I join her sometime with a willing participant. I immediately put some feelers out to see which guy I'm in touch with might like to join me there sometime.
7:13 p.m. Home on the couch with my cat as my companion, cheese and crackers as dinner, and Netflix as evening entertainment. It doesn't get any better! Plus, I'm exhausted from Yacht Guy's early-morning shenanigans.
DAY THREE
11:20 a.m. Bored at work, I start swiping around on Tinder. I match with a handsome, tall (six-foot-five) twenty-something from the UK. I reach out to say hey, and perhaps because he's British and didn't get the American male memo that you wait seven hours to reply, he writes back eagerly but adorably, asking if I would show him some fun bars around town. We set something up for this evening.
5:30 p.m. Excited to bar hop with Tall Brit, I meet a girlfriend for a quick drink to pregame.
6:55 p.m. Tall Brit texts that he's at the bar I suggested. He offers to order me a drink. Manhattan, please! It's one of those steamy summer evenings where anything could happen, and I'm here for it.
7:09 p.m. I'm fashionably late with a drink waiting for me and sufficiently buzzed already after downing two bourbons on the rocks with my girlfriend. Tall Brit seems like the perfect fix — charming accent, tall, intelligent, handsome … I like that I made him wait a little and that my head practically reaches his elbows.
8:28 p.m. Next location is a breezy rooftop bar. Conversation is light and flirty. I think we both know how this evening is going to end. I pay for drinks since he paid at the last place.
9:46 p.m. Having not eaten all night, we end up at a fun sushi spot, eating outside, chatting with the owners, whom I know. Finally some PDA as Tall Brit takes my arm, pulls me in and kisses me. We settle up, splitting the bill. I don't normally split the bill on dates; I usually let them pay, but with these younger guys, I tend to feel like I'm the larger earner so sometimes I offer after they've paid for the first round. We head to his apartment nearby.
10:20 p.m. His apartment is stuffy and the one AC unit in the living room isn't helping. We strip quickly, and let's just say the sheets were soaked from a combination of bodily fluids from both of us. Post divorce, I've learned how to squirt. And not just a trickle. I don't know where or how the reserves are kept, but it flushes out of me like a fire hose when I'm the right position. Typically that's when I'm on top, basically squatting over his cock. Tall Brit was like the 99% of other guys I've been with who are totally turned on by squirting. (There's one guy, let's call him the Neighbor, who refuses to hook up with me at his place ever again because his mattress didn't dry out for days.) I've invested in a trusty waterproof mattress cover. If it's good enough for a toddler who wets the bed, it's good enough for a mom who squirts.
DAY FOUR
4:11 a.m. Fell asleep next to Tall Brit. Dammit. I'm feeling nauseous and I hate getting sick at someone else's place. I lie down on the couch in his living room closer to the AC and pass out for a couple hours.
10:20 a.m. After delicious morning sex, Tall Brit makes some coffee and I Uber home.
12:10 p.m. Groggy and hungover, I meet up with my ex and kids for brunch. Although the fallout from the divorce was tough on the kids, we told them we'd always be a family. As things shift and we date people more seriously, I imagine this dynamic will change. But for now, it feels comforting for all of us. Ultimately my ex is my ex for a reason — we weren't compatible and didn't communicate well. Ironically, we communicate better now but there's no romance, no attraction and thus, no hope of reconciling.
7:40 p.m. Take a couple hits of my weed pen while packing. Yacht Guy texts to ask about my plans in the Berkshires and if he can visit one afternoon. I'm excited for this solo retreat but the idea of him popping by makes me a little wet.
DAY FIVE
1:45 p.m. I check in to the yoga retreat, taking in the lush green grounds, clean air, sparkling blue lake. The accommodations aren't luxurious, but fine for my purposes. My room has two twin beds, which concerns me with regards to any shenanigans that Yacht Guy has planned. When was the last time I had sex in a twin bed?!
3:50 p.m. Yacht Guy is on his way as I head into yoga class. Good thing they say to "focus on your breath" since I have no idea how this is all going down. However, I'm a fan of adventures and spontaneity, so here we go …
4:20 p.m. Sweaty and zen, I meet Yacht Guy in front of the retreat building and we surreptitiously head up to my room. I'm not sure if he's  allowed, or what might happen if we get caught.
4:45 p.m. I quickly shower and then we get right to it. His kinky side is on full display as he blindfolds me and then uses a sturdy rope to secure my arms to the bed using nautical knots he must have used on his yachts. I'm turned on by being submissive. He slips on a vibrating cock ring and away we go. This twin bed may never have seen so much action.
6:50 p.m. Yacht Guy heads home and I — flushed and hungry, and slightly sore around the wrists — check out the retreat's cafeteria. Glad to have the rest of my stay to relax, process, and be solo.
DAY SIX
10:48 a.m. I bail on morning Ayurveda and take a book and my weed pen to the lake. I think I've said zero words out loud today and couldn't be happier.
2:40 p.m. I kayak around the lake before afternoon yoga. I'm trying not to think about heading home tomorrow, but I text Tall Brit to check in as he's been quiet. He replies, "I've actually met someone. It's a pity we can't hangout anymore …" Bummer. I can't stand these Britishisms. "It's a pity" sounds so understated and blameless.
4:30 p.m. Second yoga class. Trying to surrender and breathe, but my mind is racing. The younger guys serve their purpose as short-term fun, but the long-term prospects seem elusive — or I just don't know what that looks or feels like.
8:20 p.m. In bed, wiped out from the day. Feel peaceful and ready to return home.
DAY SEVEN
6:20 a.m. Another day, another yoga class.
10:45 a.m. Pack up and check out of the retreat.
11:20 p.m. Pitstop at a Massachusetts dispensary to stock up. Insider tip: preordering online helps you skip the long waiting line outside.
12:55 p.m. Arrive home. The house needs to be straightened and the dishes are still in the sink from three days ago, but I decide to put on my sneakers, take a puff off my weed pen, and take a long walk around my neighborhood to refocus and think about about where I am and where I'm going.
2:20 p.m. I leave a message on my therapist's voicemail. I see her every couple weeks to regroup and I feel like it would be good to check in and talk about how to balance my desire for excitement and impulsivity with (eventually) finding a mate who can respect my need for independence, keep me on my toes, and also get '80s pop culture references.
Want to submit a sex diary? Email sexdiaries@nymag.com and tell us a little about yourself.