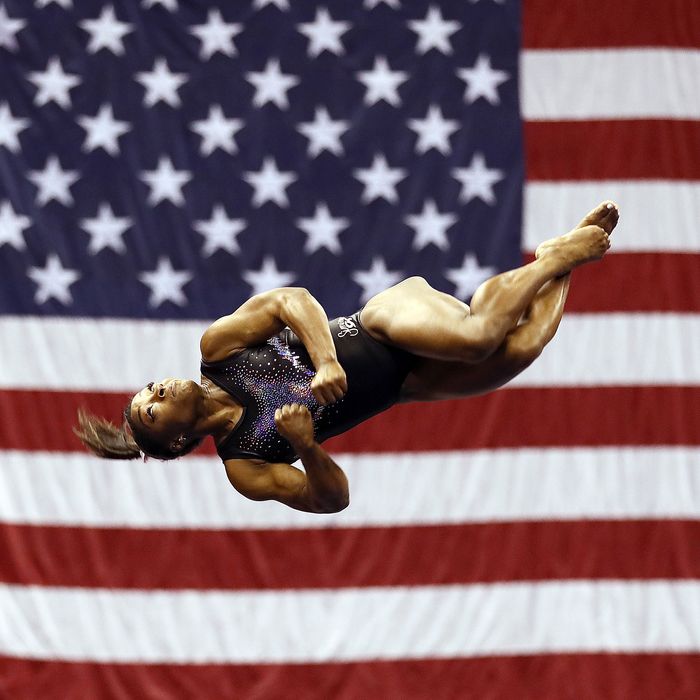 Simone Biles.
Photo: Jamie Squire/Getty Images
For my New Year's resolution, I set a goal that, were I to accomplish it, would be historic for me: to finally be able to do one pull-up. Meanwhile, gymnastic Simone Biles landed two history-making flips on her way to clinching a record-tying sixth title at the U.S. Gymnastics Championships over the weekend.
Biles — who many consider to be the best gymnast her sport has ever seen — began her extraordinary showing on Friday night, when she became the first person to land a double-twisting, double somersault dismount off the balance beam in competition. And then, for good measure, she went ahead and made history again. During her floor routine on Sunday night, she cleanly landed what she recently referred to as "the hardest move in the world" in an interview with the New York Times: A triple-double, which is two flips with three twists. It is a move that, before repeatedly watching the video of Biles doing it, I did not know was humanly possible.
And apparently, it isn't for even some of the world's best gymnasts. "The triple double is a skill that, until this point, had been done only on the men's side, where it is still rare," the Times reports. "None of the men at the national championships are expected to try one, and most of Biles's competitors can't even do a double double."
But Biles is no ordinary gymnast, as she yet again proved this weekend in Kansas City. At the conclusion of the championships, Biles walked away with titles in the vault, balance beam, and floor routine, and clinched her sixth record-tying title at the championships, tying her with Clara Schroth Lomady's record from 1952. Also, per a Team USA press release, Biles's beam dismount will be named after her if she completes it during her next international meet.
I wonder how many pull-ups she can do …