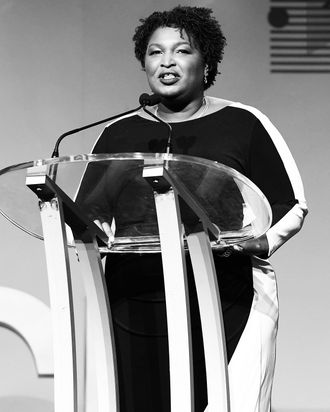 Stacey Abrams.
Photo: Paras Griffin/Getty Images
Earlier this week Stacey Abrams, who came to national attention after narrowly losing Georgia's gubernatorial race last year, announced that, after much speculation, she would not be seeking the Democratic nomination for president. However, she's still open to being chosen by the Democratic candidate as a running mate.
In an interview with the New York Times on Tuesday night, Abrams was asked if she'd be open to "potential selection for vice president." She replied, "I would be honored to be considered by any nominee."
Abrams continued, "But my responsibility is to focus on the primary. And that means using the primary as an opportunity to build the apparatus to fight voter suppression."
The Times reported on Tuesday that Abrams will dedicate her energies toward thwarting voter suppression with her Fair Fight 2020 initiative. The campaign will reportedly help monitor battleground states ahead of the general election. According to its mission statement, the initiative is also committed to educating voters about their rights and encouraging voter participation. Abrams told the Times, "There are only two things stopping us in 2020: that people have a reason to vote, and that they have a right to vote. I've decided to leave it to a whole bunch of other people to make sure they have a reason to vote."
Few have grappled so publicly with the issue of voting rights as Abrams, who lost her election for governor by a small margin to Republican Brian Kemp, who, as Georgia's secretary of State, just happened to be in charge of the voter rolls. Kemp strongly appeared to use this power to his advantage when his office held up more than 50,000 voter registrations — a disproportionate number of them belonging to black voters — and tried to close several polling stations in predominantly black neighborhoods. (According to the The Atlanta Journal-Constitution, county election officials have closed 214 polling stations since 2012.)
As a recent Vogue profile of Abrams reports, while her Republican opponent was busy trying to disenfranchise black voters, the former Georgia House minority leader tripled Latino, Pacific Islander, and Asian-American voter turnout. More black Democrats voted for her than the total number of Democrats who voted in the 2014 election for governor in Georgia. She may have lost, but she proved she's committed to winning and, moreover, knows how. Whoever takes the Democratic primary would be wise to consider her. But even if she sticks to her voting-rights initiative she'll be doing more good than the indistinguishable crowd of moderate democrats posturing for the presidency.