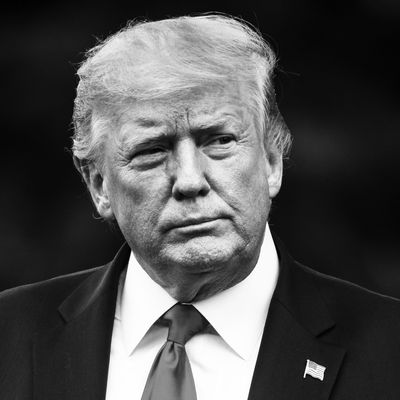 Photo: The Washington Post/Getty Images
Stephen Ross, owner of the Miami Dolphins and chairman of the Related Companies, which includes cult fitness brands SoulCycle and Equinox, is scheduled to throw an extravagant fundraiser for President Trump's 2020 reelection campaign on Friday, the Washington Post reports. Tickets for his Hamptons luncheon begin at $100,000 for lunch and a photo opportunity with the president. For $250,000, guests can partake of lunch, a photo op, and a small roundtable discussion with Trump.
The report was met with dismay by fans of SoulCycle and Equinox, many of whom threatened to withdraw their memberships in protest.
SoulCycle and Equinox are just two of Ross's many ventures. As Eater noted back in October, the billionaire's investment firm, RSE Venture, has financed David Chang's Momofuku, dessert bar Milk Bar, reservation service Resy, coffee shop Bluestone Lane, and pizza shop &pizza.
Ross was also one of the main developers of New York's Hudson Yards, home of the cursed Vessel. In a Twitter thread on Wednesday, designer Prabal Gurung announced that he had been planning to have his brand's ten-year show at the Vessel during the upcoming New York Fashion Week but was pulling out due to Ross's fundraiser.
The billionaire was even called out by one of the players on his own team, the Dolphins. In a tweet, wide receiver Kenny Stills posted a screenshot of Ross's nonprofit, RISE, which says it is a "national nonprofit that educates and empowers the sports community to eliminate racial discrimination, champion social justice and improve race relations."
"You can't have a non profit with this mission statement then open your doors to Trump," Stills wrote.
Updated, 08/07/19, 3:55 p.m.: In a statement posted on Twitter on Wednesday, SoulCycle CEO Melanie Whelan wrote that, "SoulCycle in no way endorses the political fundraising event being held later this week," adding that, "Mr. Ross is a passive investor and is not involved in the management of SoulCycle.
4:10 p.m.: Equinox posted the following statement on their Twitter, underscoring that Ross is a "passive investor."
8/07/19, 8:50 a.m.: In a personal statement released Wednesday night, Ross attempted to clarify his relationship with Trump, the New York Post reports.
"I always been an active participant in the democratic process," the statement reads. "I have known Donald Trump for 40 years, and while we agree on some issues, we strongly disagree on many others, and I have never been bashful about expressing my opinions."