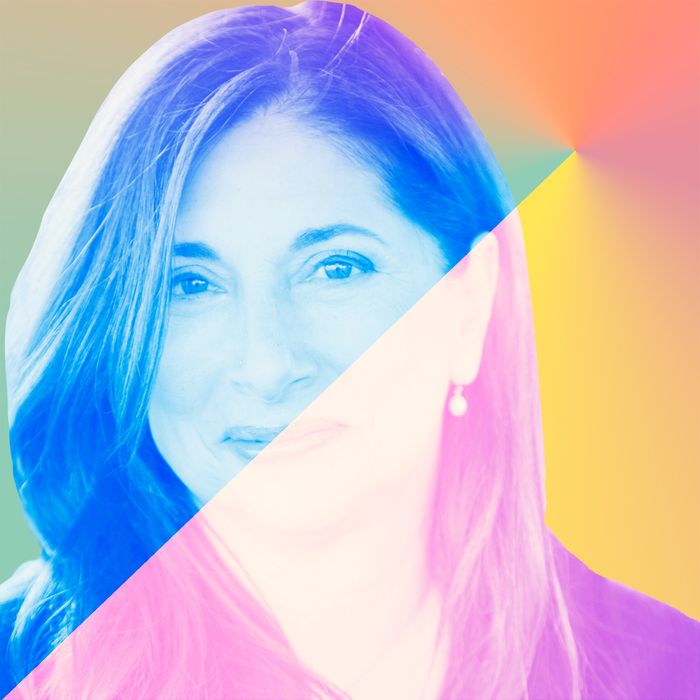 Photo: Courtesy of EO Products
Susan Griffin-Black was in the bathroom of her home in Mill Valley, California, one morning in 2011, picking up the towels her son and his bandmates had used, when she also noticed the bath products they'd been using.
"They were these really crappy, horrible ones," remembers Griffin-Black, co-founder of the essential oil-based bath-and-body line, EO Products. "So, I called a focus group with them."
The band explained that her EO items were too expensive and too small. They needed big.
And so Griffin-Black made three liquid soaps and lotions, poured them into 32-ounce jugs, and, a year later, launched Everyone. Despite the new brand's larger sizes, she was able to keep the prices down by using less expensive essential oils and extracts. It took off like crazy.
But back to the OG, EO. The essential oil that altered the course of Griffin-Black's life was lavender. One whiff at Neal's Yard's Covent Garden boutique inspired her to quit her job at Esprit and join the Brit brand, eventually becoming CEO for Neal's Yard USA. Three years later, in 1995, she and her husband, Brad Black, launched EO.
"I liked the simplicity of the two letters in Didot typeface," explains Griffin-Black, whose friend, a designer at Apple, created it for them. "For a small label on a 10ml bottle, it looked simple, clean, and elegant without the baggage of 'aromatherapy' mythos."
A holiday order from Bloomingdale's arrived their first year, their first order from Whole Foods two years later, and in 1999, they moved into their first legit manufacturing facility.
"We learned how to make lotions and soaps according to our own specs, but then we realized we had to keep those machines busy, so we added bath salts, deoderants, body oils, in small-batch artisan fashion but at a good clip."
EO and Everyone eventually moved again, into George Lucas's former studio, and Susan and Brad eventually divorced in 2007, but amicably so, and they continue to run the company together.
"At 25 years, it's become easier and more fun," she says. "I can let go of more and focus on what I like to do. I'm always looking for what my highest contribution is here, so if I can keep refining that and learning, it's a great gig."
Griffin-Black spoke with the Cut about meditative bathing, the superficial risks of hot yoga, and her keen sixth sense.
What's your definition of beauty?
Wordless transmission of love, truth, and connection.
What do you think when you hear the term "clean beauty"?
Formulated with the principles of green chemistry, cruelty-free, no artificial dyes or synthetic fragrances, no parabens, organic, non-GMO plant-based ingredients sustainably sourced and manufactured in zero-waste facility. I am from northern California.
Where, if anywhere, in your beauty (or life) routine are you not quite that "clean," "green," or "sustainable"?
Chanel nail polish here and there because of color choice, Nars blush stick, Armani foundation.
Please fill in the blank as it pertains to something connected to your beauty, self, routine, product or otherwise: I think about ___ a lot.
Sensuality.
What is the opposite of "beautiful"?
Cruelty, greed, hate, delusion.
What is your morning beauty routine?
Splash of water, brush teeth, EO Facial Serum, Armani Foundation, and Nars Portofino blush on cheeks and lips.
What's the last beauty product you use every night?
EO Transformative Night Serum and cold-pressed plum oil from France.
What constitutes a good facial?
Oxygen, hydration, relaxation, and the afterglow.
What ruins a facial?
Extraction, redness, bad hair.
Favorite spa:
Indian Springs in Calistoga.
What aspect of your beauty routine tends to be neglected?
I do hot yoga most days, so my hair tends to be a bit unruly.
What, if anything, is usually on your lips?
Naked Princess Lip Balm.
What shade, if any, is usually on your toes and/or hands?
Hands: natural. Toes: the grayish color of the moment.
Fragrance of choice:
EO Love and Flowers Aromatherapy Perfumes. I like Vetiver and Coconut layered with Rose Damascena.
Preferred sunscreen:
Shade, clothing, or simple barrier protection with zinc–titanium dioxide. Chemicals in sunscreen are nasty. I've been working on it for years.
Bath or shower? 
Bath. I started my meditation practice in the bathtub 32 years ago when my son was one. I found that a hot bath gave way to a few peaceful minutes, so I incorporated meditation whilst soaking. I use Everyone Epsom Bath Soak and EO Rose and Lemon Bubble Bath with a few drops of Lavender or Rose essential oil and a cup of Peppermint tea and a few scentless votives.
What beauty product still needs to be invented?
Essential-oil-based car-fume.
What was your first beauty-product obsession?
I discovered Love's Fresh Lemon and Yardley perfume in fifth or sixth grade at Kaufman's Department Store in Pittsburgh, where I grew up.
Shoe of choice:
Fiorentini, Palladium, Creative Officine or Caterpillar boots, Prada Tevas or the Opening Ceremony Birkenstocks.
What fashion look or item makes you scratch your head?
High heels and crazy high platform shoes.
How do you like your bed?
Cozy, comfy, cloud.
How do you like your living room?
Spare, flowers, Buddha, photos, comfy, inviting, accessible, easy.
Any hidden or secret talent or skill you possess?
Having a sixth sense about people.
If you could have one ridiculous indulgence, what would it be?
A driver and a pilot so I can be anywhere easily and comfortably with ease. A high-speed train with healthy food and yoga classes would be great.
What was the most recent interesting conversation you had? Topic?
With my trans friend who recently came out and reported that, as a woman, it has been harder to raise money for her business, and that less testosterone has made her feel clearer and calmer.
What tiny thing can make your day?
A cup of black tea.
What annoying thing can put you in a bad mood?
Forgetting to get milk.
What would the name of your autobiography be?
Thank You. Thank You.
Who would star as you in the film adaptation?
Natalie Portman.
What word do you overuse?
"Integration."
Favorite smell?
Lilacs, gardenias, honeysuckle.
Least favorite smell?
Overpowering synthetic fragrance in enclosed spaces.
What do you think Pantone's color of 2020 should be, and why?
Yves Klein blue — energetic, hopeful, bold, momentum, float and rise.
What must you adjust or fix when you see it done incorrectly?
I am obsessed with typeface's role in design and always must fix or tweak typefaces when done incorrectly.
What do you wish more people knew about what you do?
For over 20 years, we've had the transparency and ingredient standards that are trendy today. I wish people knew that, from the start, we've been honest in our intentions to make the healthiest products and not just chasing trends.
Favorite meal and where?
The artichoke and tre colore salad at Tamalpie.
What is always in your fridge?
Strauss organic whole milk, Ripple chocolate milk, Perfect bars, eggs, Dave's good seed bread, butter.
What food would you never eat?
Haggis.
What TV show is on your to-binge-watch list?
Call My Agent.
What do you foresee as the top beauty trends for the remainder of 2019?
Packaging innovation to streamline waste and environmental impact.
What product in your domain is misunderstood and should be a best seller?
Natural deodorant. There's still a misconception that it doesn't work (although that is starting to shift). But it's so much better for you and can be just as effective.
What product is currently your favorite (understanding that this could change all the time)?
Essential oils are my tried-and-true favorite. They're so versatile and play such a big part of my life.
If you won the Power Ball tomorrow, what are the first five things you would do? (after, of course, donating the majority of it to your top charities …)
Make sure all the people I love have enough resources that they never need to worry about money; found a new credit union (a non-bank for female and underserved minorities to get emergency loans and start-up loans for business), plus a women's business clinic with mentors, financing options, and problem-solvers; develop low-income community housing that is rent-to-own, modern, cool, and has a community garden; and I'd have the space and means to envision and articulate a just and humane society that embodied and celebrated gender energies with equanimity.
If you buy something through our links, New York may earn an affiliate commission.