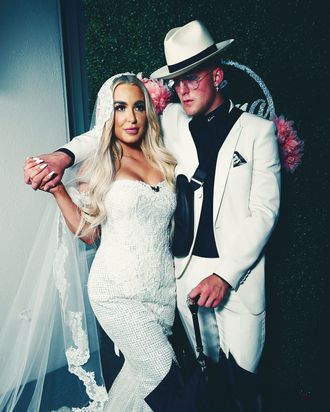 Tana Mongeau and Jake Paul.
Photo: Denise Truscello/WireImage
When famed YouTubers Jake Paul, 22, and Tana Mongeau, 21, first started "dating," their relationship seemed rather suspicious, as in most likely founded on the desire to remain relevant — not on all-consuming love. And yet, here we are, just over three months later, and the early 20-somethings are already "married." (Or so they say.) Throughout the entirety of the YouTubers' relationship, doubters have remained convinced that nothing about it is legitimate, despite the pair's insistence that they really are in love. Forever a sign of a healthy relationship!
There's mounting evidence that the chaotic couple may have constructed these nuptials as a stunt, including: Paul's history of pulling pranks to make headlines, the raucousness of their Las Vegas ceremony, the fact that they seem to have never obtained an actual marriage license. Take our hand; let us guide you through the dark reality.
Exhibit A: This wouldn't be Paul's first fake marriage.
Before we fall into the black hole that is Jana, let us take a close look at Paul's sham marriage history, because naturally, he has one. In 2018, he claimed in a YouTube video that he and his then-girlfriend, fellow internet personality Erika Costell, had gotten "married." And then, surprise!!! He admitted, months later, that they never wed.
Exhibit B: Mongeau and Paul's "relationship" got off to an incredibly bizarre start.
If Paul was being truthful in the raunchy poem he wrote to announce the date of his nuptials, the day he met Mongeau, she — and I'm so sorry for what I'm about to divulge — "ate [his] banana." Presumably, this unfortunate incident must've happened sometime before or on April 24, when the couple was first photographed together. The very next day, Mongeau posted to Snapchat a selfie from a bed that fans recognized as Paul's. (Also, all of this came just days after Mongeau went through a very public split from her ex-boyfriend Brad Sousa, whom she announced had cheated on her in a YouTube video titled, "i got cheated on but that's okay.")
Now that that's out of the way, let's get to what initially made fans suspicious: the joint videos they released on April 30 (which is, again, seemingly days after they met). On his personal YouTube channel, Paul released a video titled "meet the girl i've been hiding from you.." (i.e., Tana). In the video Mongeau posted to her channel, titled "Mukbang In Bed With My Rebound Jake Paul," she refers to her situation with Paul as a "clout relationship." Hm!
Exhibit C: They got engaged after dating for two months.
While Mongeau and Paul wouldn't be the first "celebrity" "couple" to get engaged after dating for just a few months — we're looking at you, Gravidson — the rapid pace at which this relationship progressed doesn't do a lot to allay suspicions that the two were just dating for publicity.
Exhibit D: They got married in a ceremony that looked unbearably raucous, which fans could pay to stream.
Just one month post-engagement, at the Graffiti Mansion in Las Vegas, the two declared each other man and wife in a ceremony that lasted a whole ten minutes. Between Paul destroying his wedding cake with a sword, to a physical altercation that was allegedly staged, to the Oprah impersonator the couple hired, the whole night looked like a fucking mess.
Also, the couple broadcasted their I Do's in a livestream that was apparently so low-quality, Apple and Google Play are now issuing refunds to some of the 66,000-some fans who paid between $50 and $75 to watch the wedding through their app stores, per TMZ.
Exhibit E: They never obtained a marriage license.
Oh yeah, just a small detail! The day after the ceremony, BuzzFeed News had no luck finding documentation that the couple had filed for a marriage license in Clark County. Turns out… Jana never obtained one. In a video that Mongeau posted to YouTube on August 5 (that she filmed during the day of the wedding), the YouTuber proudly admits that her marriage isn't legal, and that she wouldn't have it any other way.
"Any wedding I had—if I had three more fucking weddings—really, I wouldn't want to do it on paper because I think legally binding yourself to someone takes away the love," she said. "It's unnecessary."
Exhibit F: Mongeau skipped their European honeymoon due to a "family emergency."
Not to cast doubt on something that could potentially be serious, but, uhhh. Also, "Page Six" reports that Paul opted to board their flight to Europe instead of staying behind with his new "wife," which again, ???????
Exhibit G: All of this unfolded right as Mongeau was launching a new MTV YouTube show.
In early July, Mongeau launched her MTV YouTube show "Tana Turns 21" — interesting timing! And that's not all: In the most recent episode, which was filmed before Paul proposed to Mongeau, the latter appeared to admit that their relationship wasn't serious at all.
"Jake and I aren't officially exclusive, so I guess for me we would just take the openness of our relationship into the openness of marriage, right?" Mongeau said. "I have a lot of love for him but it's still something fun and light-hearted that we're obviously doing for fun and for content … It's up to us how real it is."
After media outlets picked up on the sound bite and published headlines like "Tana Mongeau says her wedding to Jake Paul was for 'fun and content,'" Mongeau took to Twitter on August 1 to assert that her comments had been taken "out of context."
She continued: "i know that things have moved so fast, are unconventional, and confusing but i love jake. i truly do, in the weirdest fucking way."
Fun and content, indeed.