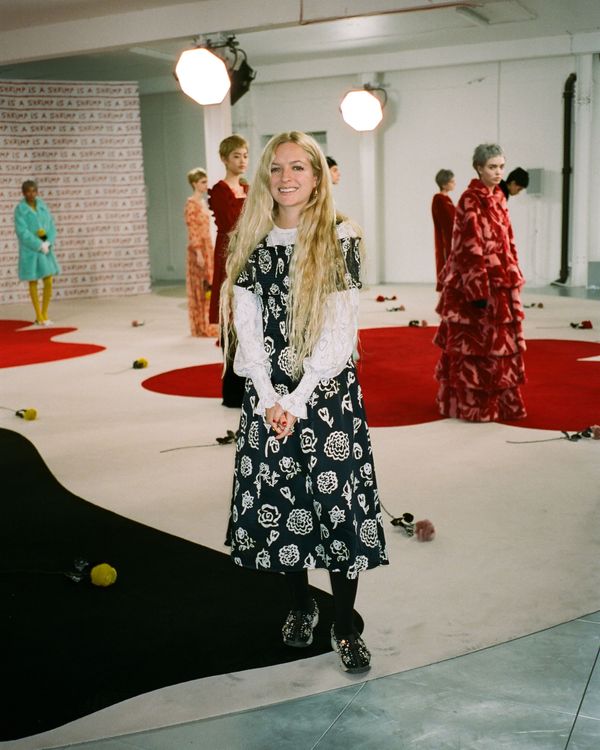 Photo: Lily Bertrand Webb
Hannah Weiland is frequently ahead of the curve. The British designer's line, Shrimps, is known for jumping on the Muppet-coat trend early and doing it well. This year, you'll see her super-feminine beaded handbags all over Instagram. They're hard to miss. Weiland's personal style is similarly playful without veering into kitschy or campy territory. We spoke with her about postcards, Fleabag, and her party style.
How do you thank someone for a gift? I love sending postcards. I have a collection of postcards of beautiful images, so I often send one of these.
What would you never wear? Real fur.
What's your dream vacation? Italy, every time!
What's a good book on your coffee table right now? Van Gogh's Paintings, which I bought from his recent exhibition at Tate Britain.
Last show you binge-watched? Fleabag. 
Secret to hosting a good party? Lots of snacks, olives, and gherkins are essential.
What's a trend you like right now? Lime green.
One you don't understand? Cycling shorts.
Favorite museum/gallery? The Uffizi Gallery in Florence.
Shoes you wear most often? I love flatforms, Miu Miu and Prada always being my favorite.
What's your favorite …
Pajamas? Poplin, my sister-in-law's brand. I wear them night and day.
Candle? Diptyque's Feuille de Lavande.
Scent? I can't choose just one. Rose, orange blossom, and lavender are my favorites.
Restaurant? Da Aldofo in Positano and St. John in London.
Socks? I love wearing my dad's big, cozy socks.
T-shirt? A Shrimps T-shirt.
Can you share three instagrams or photos of yourself that define your style?
This photo definitely defined my style last winter. I lived in this Shrimps coat (as did my friend next to me), roll-up tartan-trimmed jeans by Isa Arfen, Miu Miu flatforms, a wicker basket bag, and a lime-green vintage beret.
I love using a big basket when I have lots of stuff to carry, whether it's summer or winter.
This was the first Shrimps wrap dress I designed, and it's gone on to be a signature shape for us. The embroidered fabric was produced from a development swatch I designed at the London College of Fashion.
At my friend Kate Foley's wedding, I wore a Shrimps stole, a yellow lace dress, Miu Miu shoes, and a Shrimps leopard clutch. This defines my party style.
Shop the Story
If you buy something through our links, New York may earn an affiliate commission.