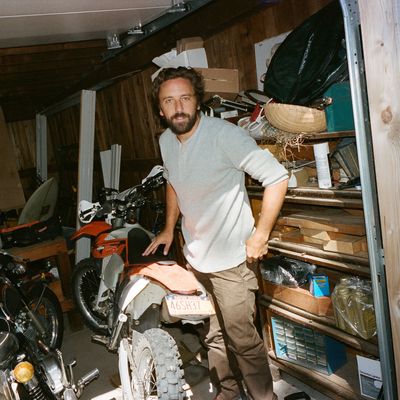 Photo: Courtesy of Fellow Barber
Sam Buffa was part of the barbershop renaissance. In 2006, he started Fellow Barber as a way to fill the gap between a $14 cut and a $100 salon trip. It's since grown into 11 locations across New York. But Buffa doesn't just design hair — he designs spaces as well. In addition to doing all the Fellow locations, he also did interiors for the swanky mid-century-modern restaurant Frenchette and Vinegar Hill House in Brooklyn. We spoke with the renaissance man about long hair, tattoos, and Cheers.
How do you thank someone for a gift? I like to thank people in person. I'm not a letter type of person although I'd love to be. I'd rather give someone a big hug.
What would you never wear? I think I've worn everything at some point. There's always a time and place to be wrong.
What's your dream vacation? I'm a big active-vacation guy — for some reason I love feeling exhausted when I come back into town. Total dream would be to race the Dakar, on a motorcycle of course.
What's a good book on your coffee table right now? Fire Island Modernist.
What's the last show you binge-watched? Cheers. It's worth a rewatch, even though it was a real bummer when I realized they're all younger than I am when the show starts.
Secret to hosting a good party? Date a chef, stay out of her way, and never let your guests do the dishes or clean up after dinner in your home. You invited them over to relax — let them take care of you when they host you at their home.
What is a trend that you like right now? I love that guys are getting back into longer hair. At Fellow we see our customers trying to grow their hair out and we're excited to help them look great while doing it.
One you don't understand? Tattoos. Don't like them and don't have them.
Shoes you wear most often? Blundstones in the winter and Nisolo woven slip-ons in the summer.
What's your favorite …
Museum/gallery? The Neue Galerie. It's small but has some amazing modernist artists, and Café Sabarsky is a great treat right on the park.
Pajamas? None.
Candle? Never been a candle guy.
Scent? We made an amazing scent for our new product line, Fellow.
Restaurant? Frenchette, but I'm partial as the co-designer and old friends with the owners.
Socks? I'm a no-socks guy and a sleep-in-your-sleeping-bag-naked type of person.
T-shirt? Unis makes my favorite T-shirt.
Can you take a photo of your favorite space in your studio/office/home? Why is it your favorite? This is Fellow Barber's Nomad Shop. It's one of my favorite places to be while I'm working. I tend to float between all of our shops in Brooklyn and Manhattan, but being here in the morning before it gets busy is a treat. I design all our shops, and I selected the colors in this space to be both energizing and calming.
Can you share some photos of yourself that define your style? These photos are reflective of my classic-but-slightly-to-totally-disheveled look. For me, classic clothes definitely feel better in the country, but I always need to bring a little bit of that back to the city. Everything should be something you can throw on after a surf or if you're headed to meet friends for dinner. I don't plan outfits; I just buy the same types of things over and over so it all works together. I love layers, and love denim.
Shop the Story
If you buy something through our links, New York may earn an affiliate commission.