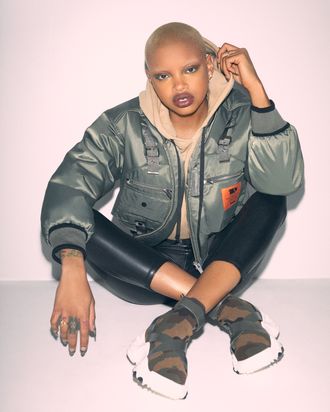 Photo: Courtesy of the Kooples
Wouldn't it be nice to be known as "Rihanna's muse?" Slick Woods deserves it, though. You may recognize Woods as the model who went into labor after the Savage x Fenty show, or for her sexy take on streetwear style and constantly changing hair color. But she's a designer and an actress in addition to being one of the biggest models of the moment. She says her style comes out of wanting to be comfortable and she "[doesn't] think about it much," to which we say, please teach us. We spoke with her about her first collection of shoes, not getting the hype around Supreme, and her favorite trend.
How do you thank someone for a gift? I usually send them a thank-you card.
What would you never wear? I would never wear a Supreme outfit — it's like expensive Carhartt.
What's your dream vacation? Barbados.
What's a good book on your coffee table right now? Condoleezza Rice: A Memoir of My Extraordinary Family and Me.
Last show you binge-watched? Westworld.
Secret to hosting a good party? Playing Stevie Wonder's "Happy Birthday" rendition.
What is a trend that you like right now? I AM THE TREND!
Favorite museum/gallery? The Met.
Shoes you wear most often? Definitely sneakers. With the Kooples I created two different styles, a sock-sneaker bound in a chunky Velcro strap and a chunky sportswear-influenced lace-up. I picked "finesse" and "tighten up" emblazoned across the straps of one of the designs as a call to take action.
What's your favorite… 
Pajamas? I sleep naked.
Candle? South Central Candle Co. They make candles that smell like beautiful parts of L.A. that I adore.
Scent? Bond No. 9 Madison Ave.
Restaurant? Emilio's on Houston.
Socks? Richardson socks.
T-shirt? I don't wear T-shirts.
Can you share three photos of yourself that define your style? And a brief explanation of why? When it comes to my style, I don't think about it much. Comfort is important to me.
Shop the Story
If you buy something through our links, New York may earn an affiliate commission.