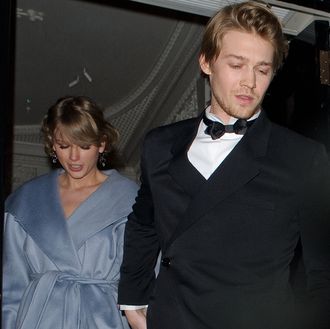 The best photo we could find of them. Seriously.
Photo: GOR/GC Images
For someone who has enjoyed a prodigious dating history with men wearing tank tops marked with her initials, Taylor Swift has been extremely hush-hush about her relationship with British actor Joe Alwyn, whom she's been dating for about three years. (He's in a lot of good stuff!) But don't expect her to begin blabbing with a glass of merlot in hand about their sex life, either. When asked by The Guardian in a new interview about, well, anything regarding their romance, Swift politely said it was nobody's business. (Or, you can consult her anglophile-friendly Lover song "London Boy" for clues.)
"I've learned that if I do, people think it's up for discussion, and our relationship isn't up for discussion," Swift said about becoming chummy with Alwyn in the public eye. "If you and I were having a glass of wine right now, we'd be talking about it — but it's just that it goes out into the world. That's where the boundary is, and that's where my life has become manageable. I really want to keep it feeling manageable." Swift and Alwyn are rarely photographed together, and most reports about the duo come from eagle-eyed fans who spot them out and about on vacation. Whether they're doing that fabulous dance from The Favourite — well, that's up to you.