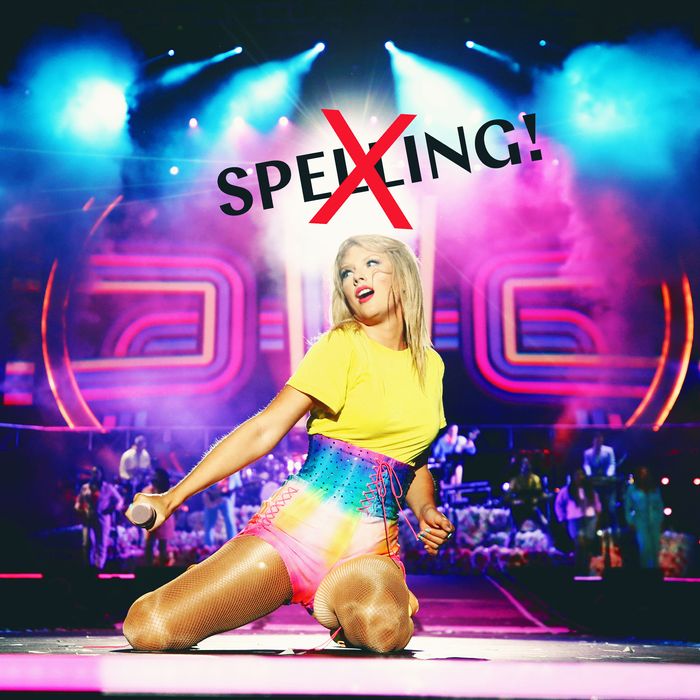 Photo: Rich Fury/Getty Images for iHeartMedia
Like deleting an Instagram Story hours after everyone who regularly looks at your Instagram Stories has already seen it, Taylor Swift has decided to remove the "HEY KIDS, SPELLING IS FUN!" interjection from her album Lover's lead single "ME!"
Let us bow our heads.
For those unaware, Taylor Swift's single "ME!" (featuring Brendon Urie of Panic! At the Disco), which was released in April, featured a widely mocked segment during which Swift said, "HEY KIDS, SPELLING IS FUN!" after which she and Brendon Urie noted that there is not an I in team but that there is a me. (This explanation will — God willing — live on in its memory.)
The new version, sans the note about spelling, is now available on Apple Music. Those who already have the rotting corpse of a "spelling" version will have to delete and re-download. (That is, if they wish to live their lives being constantly reminded about how Taylor Swift felt she had to kowtow to public opinion even though she is very powerful, and how that is genuinely quite sad.)
In honor of the forced passing of "HEY KIDS, SPELLING IS FUN!" let us remember Mary Elizabeth Frye's "Do Not Stand at My Grave and Weep," altered slightly for the occasion:
Do not stand at my grave and weep
I am not there; I do not sleep.
I am a thousand winds that blow,
Please forget "HEY KIDS, SPELLING IS FUN!"
I am the sun on ripened grain,
I am the gentle autumn rain.
When you awaken in the morning's hush
"HEY KIDS, SPELLING IS FUN!" never happened; please forget it
Of quiet birds in circled flight.
I am the — actually "ME!" never had that part about spelling, I'm not sure what you're referring to? I mean we can check on Apple Music, but …
Do not stand at my grave and cry,
I am not there; but I am still on Spotify.*
*As of 12:30 p.m. on August 22, 2019; timestamp 12:56.