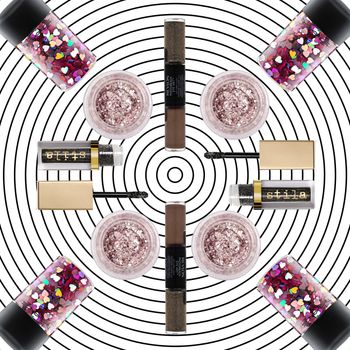 Photo: Courtesy of the Retailers
Maybe you just love shiny things. Maybe you just finished bingeing the entire first season of Euphoria and loved all of the glitter tears. If you love sparkle, glow, twinkle, shimmer, polish, glimmer, and all synonyms for "ooh, shiny," The Cut rounded up the 11 best glitter eyeshadows that aren't a pain to remove and won't molt. From drugstore to luxury options to several that were actually used on the Euphoria cast, here's how to really, really radiate light.
The Glitter Actually Used on Euphoria
If you want to use the same glitter seen on the faces of the Euphoria cast (with looks created by makeup artist Donni Davy), there's a kit for that. Lemonhead, the preferred glitter brand of celebrity makeup artists, is known for its super-sparkly, nonsticky, glitter gels that wash off easily with water. They're particularly special because each gel contains a mix of chunky and fine glitter particles. They're so twinkly that I've even gotten compliments on my Lemonhead-ed eyes in the dark lighting of a bar. If you want to glow like dream Rue and Jules during a drug trip or have Alabama Worley eyes like Cassie, try these first.
If You Like No Mess
If you want lots of metallic color and shine, this is for you. This liquid glitter eyeshadow is an under-the-radar Sephora love with over 1,000 five-star reviews. It's easy to use because it dries quickly with minimal fall-out and you can use the doe foot to apply these directly on your eyes. It was also used on Euphoria.
If You're at Duane Reade
This epitomizes a drugstore thrill. If you don't want to spend more than $20 on glitter and want your sparkly look to last all night, get these. One side has an eyeshadow base, and the other is a sparkly, thick gel gelee. Use each side alone or use both. This is Amazon's No. 1 bestseller for glitter (and was also used on Euphoria).
If Your Want Glitter to Go With Champagne
These sophisticated shine-bedecked eyeshadows would be what Euphoria's Maddy would use in five years. The effect of these is more gleamy, with microfine glitter, and they come in a variety of pretty nude and earth-toned shades.
If You Love Everything Glossier
Don't forget, they also make a glitter gel and it comes with a little angled brush/spatula for application.
If You Don't Want Creasing
These eyeshadows have an intriguingly bouncy, almost creamy texture (which is incredible for $6). Unlike most glitter shadows, they're easy to blend and won't crease on your eyelids either. This is one of the broadest glitter color ranges, with 22 shades ranging from coppery nudes to midnight blue.
If You Don't Want to Scratch Your Eye
This is an important PSA. Do not take any glitter that is meant to be attached with glue to paper and put it on your face. Do not pass go, do not collect $200. Craft-store glitter does not belong on your face. Please use makeup grade glitter only from brands like M.A.C Cosmetics, as seen here. (Plus, they have dozens of pretty varieties and colors, even including hearts.) If you do not understand why, please look at this important Reddit thread about a someone who allegedly lost an eye from a craft glitter infection gone terribly wrong. Whether it's a Reddit urban legend or not, it's enough for me to never go there.
If You Want to DIY Glitter
The nice thing about loose glitter is that you can put it on anything. Want glittery lips like Pat McGrath? Tap it onto lipstick. Do you want a glittery bellybutton? Use a glitter adhesive and pat this, using a brush, on top. (You can also use it to create your own eyeshadow.) Anastasia's come in bold colors like mermaid teal or royal purple, and are fine enough so that the glitter fall-out is minimal.
If You Want Something Super Smooth
NARS is known for their supersoft, blendable eyeshadows and the ones that contain glitter have the same high quality. These shadows aren't the most sparkly, but there's a good glitter-to-color ratio, so that you get plenty of shine in each swipe.
If You Love the Feel of Velvet
The fanciest eyeshadow in this roundup is this creamy one from Chanel. It has the texture of a luxurious velvet and the shine comes from a mix of glitter and shimmer. It's great if you want a dramatic eye look that isn't too dark.
If You Want a Color You've Never Seen Before
Once, backstage, I saw Kaia Gerber getting her eyes dusted with the prettiest, holographic micro-shimmer. Her skin glowed at a low wattage like the Kira Kira app on its lowest setting. It turned out to be from this palette, from mother of makeup, Pat McGrath. This is more like a nano-glitter, but I love using a tiny bit of this on my eyelids to open them up.
 If you buy something through our links, New York may earn an affiliate commission.