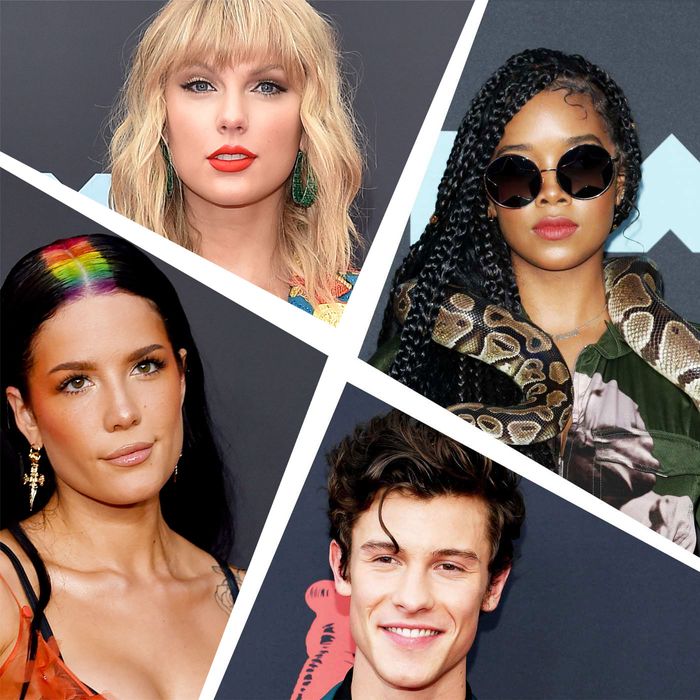 MTV's Video Music Awards this year were missing a few people: BTS, Ariana Grande, and Billie Eilish. But those who did show up brought their best beauty looks. From Bella Hadid's big pony to Taylor Swift's perfect shag to the star who thought, Who needs a barrette when you can just wear a snake?, here are nine of the most over-the-top looks from the show.
Most Unfair
Shawn Mendes's shiny, perfectly tousled hair continues to be the stuff of vision-board dreams.
Most Consistent
Taylor Swift's modern-day shag hairstyles continue to look very good, proving that this megapopular Instagram haircut is not a lie. It totally works … if you're a famous pop star.
Most Accessorized
Everything on H.E.R. looks good: her glowy skin, her two perfectly placed baby hairs, her braids — and her snake.
Most Unsickly
Yellow eye shadow makes most people look jaundiced. But it looks great on Bebe Rexha.
Most Dreamy
Bella Hadid's soft, curled-under high pony gives off I Dream of Jeannie vibes.
Most Eyelashed
Think about the sigh of relief Remy Ma is going to exude at the end of the night when she takes off those false lashes.
Most Damp
Leaning into the trend of glistening at all times, Adriana Lima's skin and hair make the most out of looking moist.
Most 100 Percent
As one of the new faces of Urban Decay, Lizzo proves she can fully commit to a look — in this case, glam beehive and red eye shadow.
Most Skittles
A surprise rainbow made Halsey's center part more fun and unexpected.
Most Tonal
Ebonee Davis shows off the beauty of head-to-toe chartreuse.